Vitamin D For Sunburn?
I understand that taking vitamin D an hour after being in the sun can help prevent sunburn. How much should you take?
Andrew Weil, M.D. | August 21, 2017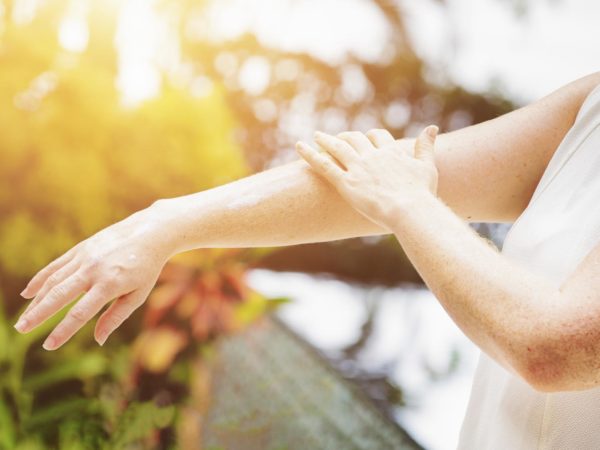 Not so fast. It is true that a small study published in July (2017) showed that taking high doses of vitamin D an hour after sun exposure reduced redness, swelling and inflammation, but this treatment isn't ready for prime time yet. Here's the story:
Researchers at Case Western Reserve University School of Medicine and University Hospitals Cleveland Medical Center conducted a double-blind, placebo-controlled study of vitamin D against sunburn in 20 participants age 18 or older. None were taking vitamin D supplements before the study began, and they were not at risk from too many hours on the beach without sunscreen. Instead, the burns studied were limited to patches on the participants inner arms exposed to light from a small ultraviolet lamp. An hour after receiving the burn, the participants were randomized to take a placebo pill or 50,000, 100,000 or 200,000 IUs of vitamin D. The researchers checked on the participants 24, 48, 72 hours and one week later, and also took skin biopsies.
Results showed that the participants who received the highest doses of D had less skin inflammation 48 hours after the burn, and those with the highest blood levels of D had less skin redness and increased gene activity related to repair of skin damage.
The researchers hypothesize that vitamin D helps protect against the effects of sunburn by rapidly reducing inflammation. Study leader Kurt Lu, M.D., an assistant professor of dermatology, said the activation of skin repair genes was a surprise. Apparently, vitamin D increases skin levels of arginase-1, an anti-inflammatory enzyme that enhances tissue repair after damage and helps activate other anti-inflammatory proteins.
Dr. Lu and his colleagues do not suggest that anyone start taking vitamin D to counteract the effects of sunburn on the basis of their findings. They describe their study as "proof of principle," designed to show that a single large dose of D can help counteract the effects of sunburn. Bear in mind that the doses of the vitamin used in the study were much higher than the 2000 IU daily dose that I recommend as well as most of the even higher doses used to treat severe deficiencies.
At this time, my personal favorite remedy for sunburn is the healing gel of aloe vera – straight from the fresh leaves of the plant. (I recommend keeping one of these plants in your kitchen to have available in case of an accidental burn.) Cut off a lower leaf and split it lengthwise, score the gel with the point of your knife and apply it directly to the burn. It will soon soak into the skin and provide immediate soothing relief. You can also use commercial aloe products if they provide a high percentage of aloe gel. You can read more of my recommendations for dealing with sunburn here.
Andrew Weil, M.D. 
Source:
Kurt Q. Lu et al, "Oral vitamin D rapidly attenuates inflammation from sunburn: an interventional study." Journal of Investigative Dermatology, 2017; DOI: 10.1016/j.jid.2017.04.040