Concerned About Chromium?
Are chromium picolinate supplements safe?
Andrew Weil, M.D. | September 27, 2021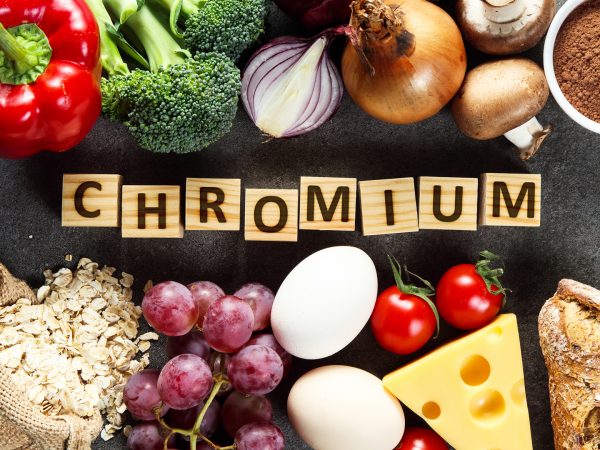 Chromium is a mineral element found in some foods and sold as dietary supplements. It is considered an essential nutrient: It plays a role in metabolic processes that regulate blood sugar and helps insulin transport glucose into cells, where it can be used for energy. Chromium also appears to be involved in the metabolism of carbohydrates, fats, and proteins.
Adults need between 20 and 45 micrograms (mcg) of chromium a day, depending on their sex and age. Most people can easily get enough from their diet: good food sources include leafy greens, apples, bananas, bread, whole grains, turkey, beef, nuts, and nutritional yeast. Glucose-tolerance factor (GTF) chromium and chromium picolinate are two forms of the mineral found in dietary supplements.
Chromium picolinate is widely promoted to help users lose weight, build muscles, increase metabolic rate, lower cholesterol, and reduce cravings, but the evidence to support such claims is limited at best. For example, some studies have found that chromium supplementation in that form might help lower high blood sugar in people with diabetes, while other studies have found no such effects. Likewise, a few small studies suggest that supplementing with chromium picolinate may help reduce food cravings in some people, but more research is needed.
Chromium picolinate appears safe, but due to a lack of data, the U.S. National Academy of Medicine hasn't set a tolerable upper intake level for chromium. Typically, exceeding a tolerable upper intake level may lead to toxicity or other problems. However, the only adverse effects of chromium I've read about involve chromium picolinate and have occurred in isolated cases. One woman who took 1,200 to 2,400 mcg daily over four to five months developed kidney failure and impaired liver function. In another case, kidney failure occurred five months after taking 600 mcg of chromium picolinate daily for six weeks. And a healthy 24-year-old man reportedly developed reversible, acute renal failure after two weeks on a supplement that contained chromium picolinate as the main ingredient.
Rather than chromium picolinate, I prefer to recommend GTF chromium, which appears to be safe and less readily absorbed by the body. People with type 2 diabetes or metabolic syndrome might try taking 1,000 mcg of GTF chromium daily. If you do, be sure to tell your doctor, since it may affect the amount of insulin or other diabetes drugs you take.
Andrew Weil, M.D.
Source:
National Institutes of Health Office of Dietary Supplements, "Chromium," Updated March 22, 2021. https://ods.od.nih.gov/factsheets/Chromium-Consumer/