Mindfulness Meditation In Schools?
Are you aware of the trend toward teaching mindfulness meditation in schools? I'm wondering about its purpose – is it to stimulate learning or help kids behave better? Do you know if it actually does any good?
Andrew Weil, M.D. | March 7, 2017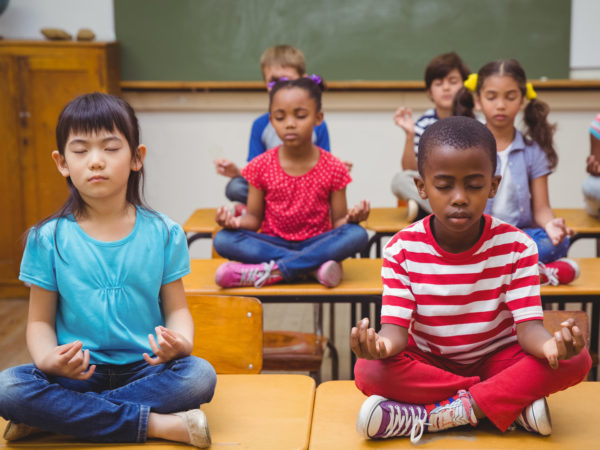 Mindfulness is the technique of bringing all of our awareness to the here and now, to the immediate sensations in our body and to the breath, for example, rather than letting much of it slip away in contemplation of the past and future or of other unrealities. The assumption is that when we act with full awareness, our actions are more likely to achieve what we intend and that when we feel with full awareness, we are more likely to be fulfilled.
In psychotherapy, mindfulness is considered especially effective for treating youngsters with attention deficit hyperactivity disorder (ADHD), anxiety or aggression. Clearly, many kids need help. According to a National Institute of Mental Health study published in 2010, about one quarter of adolescents in the U.S. suffer from a mental disorder. Chief among these problems was anxiety, affecting nearly 32 percent OF teens studied, followed by behavior disorders (19.1 percent), mood disorders (14.3 percent) and substance abuse problems (11.4 percent).
Schools in the UK introduced mindfulness training in 2007, and the practice has been expanding there and in the U.S. ever since. In these programs, the goal is to help students improve their attention and better cope with stress and anger, with a view toward avoiding disruptive behavior.
In the UK, researchers from the University of Oxford and University College London have launched a seven year study to determine whether mindfulness helps students' psychological resilience and protects their mental health. So far, there have been few studies of the effectiveness of mindfulness training in U.S. schools and little understanding of how it might work. Reportedly, however, suspensions nationwide have dropped, thanks to the development of alternative strategies (not necessarily mindfulness training alone) to help children cope with stress and anger. According to the U.S. Department of Education, 2.8 million kindergarten through 12th grade students received one or more suspensions from school in 2014 a 20 percent decrease from 2012. (Black students are nearly four times more likely to be suspended and nearly twice as likely to be expelled than white students.) By the way, no evidence indicates that suspending or expelling kids from school improves behavior.
Instead of addressing their students' problems in traditional ways, some suggest that mindfulness training may better help teachers deal with stress and time management and by extension enable them to help students perform better. According to a survey by Mindful School, a California non-profit organization that trains educators to teach mindfulness, most teachers it has trained are less stressed, better able to connect with students and more satisfied with their jobs.
Andrew Weil, M.D.
Source:
Kathleen R. Merikangas et al, "Lifetime prevalence of mental disorders in U.S. adolescents: results from the National Comorbidity survey Republication — Adolescent supplement (NCS-A). Journal of the American Academy of Child & Adolescent Psychiatry, October 2010, doi: 10.1016/j.jaac.2010.05.017