Mediterranean Diet To Ease Stress?
Is there really a diet that can ease stress? What is it and how well does it work?
Andrew Weil, M.D. | December 11, 2020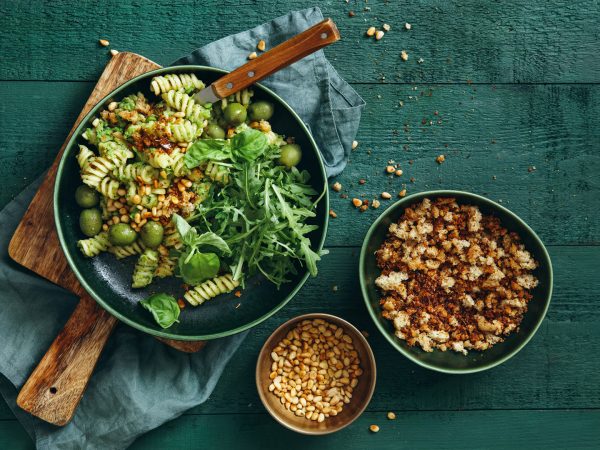 You're likely referring to research from the Wake Forest School of Medicine showing that following the Mediterranean diet may ease stress. However, this study was performed in animals, not humans; bear that in mind as you read about its promising results.
As you may know, the Mediterranean diet is a composite of the traditional cuisines of Spain, southern France, Italy, Greece, Crete and parts of the Middle East. Previous research has shown that people who follow a Mediterranean-style diet have a 33-percent reduction in the risk of death from heart disease and a 24- percent lower death rate from cancer than people who eat Western-style diets.
You also should be aware that even before the COVID-19 pandemic, the American Psychological Association rated the stress levels of Americans as among the highest in the world and noted that stress increases the risk of many chronic conditions, including heart disease and Alzheimer's disease.
The Wake Forest researchers set out to learn if the typical American diet, rich in animal protein, saturated fat, salt and sugar, worsened the body's response to stress compared to the Mediterranean diet, in which plant sources provide much of the protein and fat. First, they looked at chronic stress in 38 middle-age animals fed either the Mediterranean or Western diet. They found that those on the Mediterranean diet responded less negatively to stress and recovered faster when stress ended compared to their animal peers being fed a Western diet. Study leader, Carol Shively, Ph.D., reported that the Mediterranean diet eased the animals' response to stress while the Western diet increased it.
Dr. Shively wrote that the study's findings suggest that switching to a Mediterranean-like diet "may provide a relatively simple and cost-effective intervention to reduce the negative impact of psychological stress on health and delay nervous system aging."
These are interesting findings, but I'm not sure that simply changing your diet will enable you to better handle stress. We do know that healthy eating and increasing physical activity can be very beneficial. These changes can help optimize weight, energy levels, self-confidence, and overall health and well-being, making it much easier for you to handle daily stressors.
Here's where you can learn more about the toll stress takes on health as well as how to manage stress effectively.
Andrew Weil, M.D.
Sources:
Carol A. Shively et al, "Mediterranean diet, stress resilience, and aging in nonhuman primates." Neurobiology of Stress, November 2020; DOI: 10.1016/j.ynstr.2020.100254
And: sciencedirect.com/science/article/pii/S2352289520300448?via%3Dihub