Is Valerian Safe In Pregnancy?
Is valerian safe to use during pregnancy?
Andrew Weil, M.D. | July 13, 2021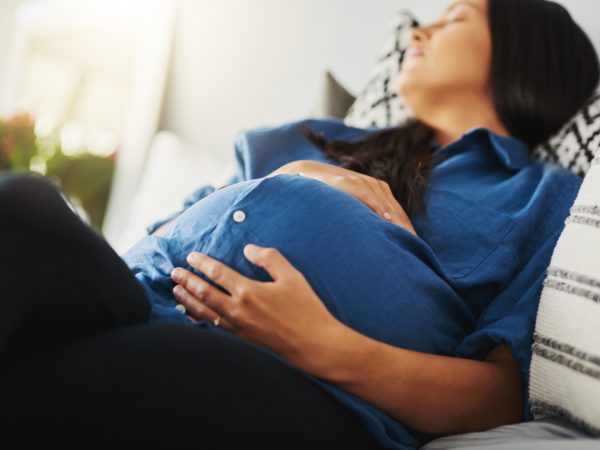 Insomnia is common during pregnancy, with many women struggling to sleep through backaches, indigestion, and other problems.  Many expectant moms have success invoking sleep using mindful meditation or other relaxation techniques, or improvement of their sleep environment by eliminating noise and light, especially the blue light of phones, computers, and TVs. As a rule, pregnant women should avoid taking medications, including herbal-based ones, but sleep is vital to a healthy pregnancy. So a natural sleep aid like valerian can be especially useful when insomnia becomes a concern.
Made from the root of Valeriana officinalis, valerian was used to address insomnia long before the invention of pharmaceutical sedatives. Regarded as both safe and effective, Valerian is milder than prescription sleeping pills but considered more powerful than other herbs that have sedative effects, such as hops or skullcap. A recent analysis of a decade's worth of studies on valerian concluded that the herb has positive effects on sleep for those reporting insomnia. Neither animal studies nor case reports in human subjects have shown ill effects of valerian in pregnancy, even at relatively high doses. One mouse study reported lower zinc levels in the brains of fetal mice exposed to valerian, but concluded that valerian had no adverse effect on fetal brain size or weight. Women using valerian during pregnancy should also be sure to take their recommended prenatal vitamins, which will help assure adequate in utero nutrition for their growing baby.
Insomnia is often accompanied (or even caused) by anxiety, and experiencing anxiousness during pregnancy is common. Fortunately, valerian is effective against anxiety as well, making it win/win for those whose trouble sleeping has an element of this.
Keep in mind that valerian is a natural central nervous system depressant, and although it is not addictive it can affect mood and mental functioning and so should not be used on a daily basis. But for occasional use for insomnia during pregnancy, I recommend it.  The usual dose is two capsules (400 to 600 mg each, preferably of a standardized extract) (RH- a little unsure about dosage here. Recs I've seen are 300-600 or 400-900, Here we are saying 800-1200.  Also capsules are really varied in amounts. I'd change to "usual dose is 300-600 mg" GN) at bedtime. Some people are very sensitive to valerian and may do well on smaller doses.
Some studies have shown that nearly a third of all pregnant women report using herbal remedies during pregnancy, with valerian being a frequent choice. As with any herbal medicine in pregnancy, let your health care provider know that you are using valerian to help with insomnia.
Andrew Weil, M.D.
Sources:
Gardner Zoë, and Michael McGuffin. American Herbal Products Association's Botanical Safety Handbook. Boca Raton, FL: CRC Press /Taylor & Francis, 2013. amazonAmerican-Products-Associations-Botanical-Handbook/dp/1466516941/ref=pd_sbs_1/134-9193303-3923126?pd_rd_w=jZ9OE&pf_rd_p=f8e24c42-8be0-4374-84aa-bb08fd897453&pf_rd_r=0TDDWA7RHA7A1BYG3DZX&pd_rd_r=f1439977-1752-4b90-9ca3-1d7bba9b43c0&pd_rd_wg=KhPB3&pd_rd_i=1466516941&psc=1
Kennedy DA, Lupattelli A, Koren G, Nordeng H. "Herbal medicine use in pregnancy: results of a multinational study." BMC Complement Altern Med. 2013 Dec 12;13:355. doi: 10.1186/1472-6882-13-355. PMID: 24330413; PMCID: PMC4029224. pubmed.ncbi.nlm.nih/24330413/
Borrás S, Martínez-Solís I, Ríos JL. "Medicinal Plants for Insomnia Related to Anxiety: An Updated Review." Planta Med. 2021 Jun 11. doi: 10.1055/a-1510-9826. Epub ahead of print. PMID: 34116572. pubmed.ncbi.nlm.nih/34116572/
Mahmoudian A, Rajaei Z, Haghir H, Banihashemian S, Hami J. "Effects of valerian consumption during pregnancy on cortical volume and the levels of zinc and copper in the brain tissue of mouse fetus." Zhong Xi Yi Jie He Xue Bao (Journal of Chinese Integrative Medicine). 2012 Apr;10(4):424-9. doi: 10.3736/jcim20120411. PMID: 22500716.
Czeizel AE, Mosonyi A. Monitoring of early human fetal development in women exposed to large doses of chemicals. Environ Mol Mutagen. 1997;30(2):240-4. doi: 10.1002/(sici)1098-2280(1997)30:2<240::aid-em17>3.0.co;2-d. PMID: 9329649.
pubmed.ncbi.nlm.nih/9329649/
Tufik S, Fujita K, Seabra Mde L, Lobo LL. Effects of a prolonged administration of valepotriates in rats on the mothers and their offspring. J Ethnopharmacol. 1994 Jan;41(1-2):39-44. doi: 10.1016/0378-8741(94)90055-8. PMID: 8170157. pubmed.ncbi.nlm.nih/8170157/
From Lise: "Animal studies and human case reports have indicated no adverse effects of relatively high doses (2.8 g/kg) of valerian in pregnancy (Czeizel et al. 1997; Tufik et al. 1994; Yao et al. 2003, 2007)"