Why Do Antidepressants Cause Weight Gain?
I've been on an antidepressant for a few months and have gained more than 10 pounds. This is making me more depressed. Do all these drugs cause weight gain?
Andrew Weil, M.D. | February 11, 2011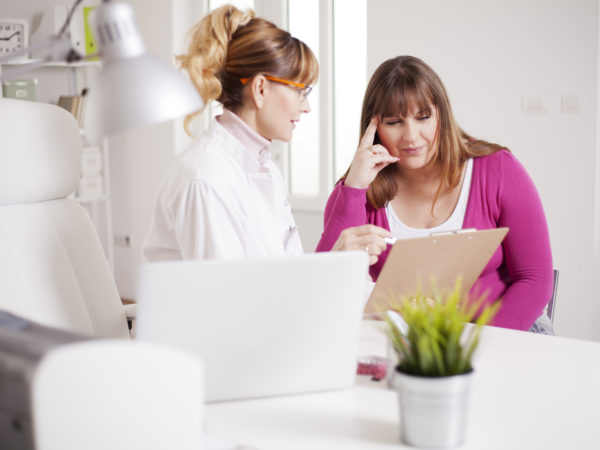 As many as 25 percent of people who take certain antidepressant medications report gaining weight, and sometimes quite a bit – as much as 100 pounds. Most antidepressants can cause weight gain, and different drugs affect individuals differently- you may gain weight on one antidepressant but not on another, even if the second is known to cause weight gain in some individuals. Overall, it's believed the effect is more likely to occur after taking medication for six months or longer.
According to Mayo Clinic psychiatrist Daniel K. Hall-Flavin, M.D. some of the drugs that may be least likely to lead to weight gain are Effexor (venlafaxine) and Serzone (nafazodone), while Wellbutrin (bupropion) tends to cause weight loss. Conversely, he says that one of the antidepressants that seems most likely to cause weight gain is Paxil, an SSRI (selective serotonin reuptake inhibitor). Of the other SSRIs, which include Prozac, Lexapro and Celexa, Zoloft may be least likely to cause weight gain.
No one knows for sure why antidepressants do this. Some may trigger food cravings, particularly for carbohydrates. The drugs may also affect metabolism. It is also possible that when the antidepressants are effective, you become less depressed and regain your appetite (though this would only apply in cases where loss of appetite is a symptom of depression). And bear in mind that overeating can also be a symptom of depression that can cause weight gain regardless of taking antidepressants.
In the midst of the obesity epidemic, unwanted weight gain due to antidepressant use is rarely mentioned, although it could be a significant contributor since these drugs are now the most commonly prescribed pharmaceuticals in the United States. In 2005 (the last year for which figures are available) some 27 million Americans age six and older were taking them.
How many of those millions of people should be on antidepressants is another concern. A study published in the Journal of the American Medical Association on January 6, 2010 concluded that prescription anti-depressants may provide little benefit for patients with mild or moderate depression although they do help patients with very severe depression. Here are my recommendations for treating mild to moderate depression.
Losing the extra pounds you've gained while taking antidepressants isn't always easy. In some cases, the solution may be as simple as switching drugs. Be sure to consult with your physician and a nutritionist in order to structure an eating and exercise plan that won't interfere with your treatment. I recommend 30 minutes of aerobic exercise a day, which is the most effective treatment I know for mild to moderate depression. It will also help with weight control by building lean muscle mass and burning calories.
Andrew Weil, M.D.
Read more: An Integrative Approach to Depression?