Predicting Depression?
I heard that there's a new test that can predict depression years in advance of it occurring. Can you tell me anything about the test and where it is available?
Andrew Weil, M.D. | April 2, 2015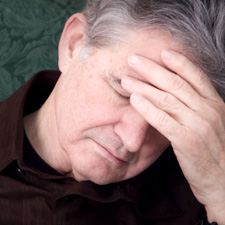 Researchers at Duke University have come up with a test that appears to predict future depression or anxiety based on the stress we experience today. By performing and reviewing stress tests on college students, they have found that it may be possible to make accurate predictions four years in advance.
The tip-off comes from the amygdala, an almond-shaped structure deep in the brain that is key to our ability to detect and respond to danger. By measuring the activity of the amygdala during periods of stress, the Duke researchers claim that they can predict the onset of depression and anxiety years before either occurs.
They base their claim on analysis of brain scans performed on 753 college students as they were looking at pictures of angry or fearful faces – these images signal danger and normally trigger the amygdala. Using functional magnetic resonance imaging (fMRI) the researchers were able to measure changes in activity within the amygdala. Every three months after their scans, the students completed an online survey documenting the stressful events they had experienced in the last 90 days and the impact of that stress. They also completed a questionnaire designed to assess symptoms of depression and anxiety.
The researchers reported that nearly 200 of the 753 students who were scanned completed the periodic online surveys for an average of two years, and in some cases, as long as four years. The team found that the more reactive the amygdala was when the students were scanned, the worse their symptoms of anxiety and depression were in response to stressful events in subsequent years. These symptoms did not show up in those students whose scans showed what the researchers described as "an overzealous amygdala" but who did not report recent stress.
In a press release that accompanied publication, the study's first author, Johnna Swartz said that the findings could potentially provide a way to guide people to seek treatment before anxiety and depression become life altering and disruptive.
Other studies have focused on the amygdala's established link to post-traumatic stress disorder (PTSD), but for the most part the participants were soldiers traumatized during combat. This group experienced more severe stress than most people in the general population encounter, and those investigations may not be comparable to data from the fMRIs of college students.
The Duke study is ongoing to see how far into the future the activity of the amygdala on those fMRI scans can predict anxiety and depression. The test is not yet fully validated, nor is it available. But the researchers say it could eventually help prevent depression and anxiety from occurring in susceptible individuals.
Andrew Weil, M.D.
Source:
Johnna Swartz et al, "A Neural Biomarker of Psychological Vulnerability to Future Life Stress." Neuron, February 4, 2015 doi: 10.1016/j.neuron.2014.12.055.