Working After A Heart Attack?
My husband has gone back to work after having a heart attack. He has a stressful job and is working even longer hours than in the past. Is this healthy?
Andrew Weil, M.D. | May 14, 2021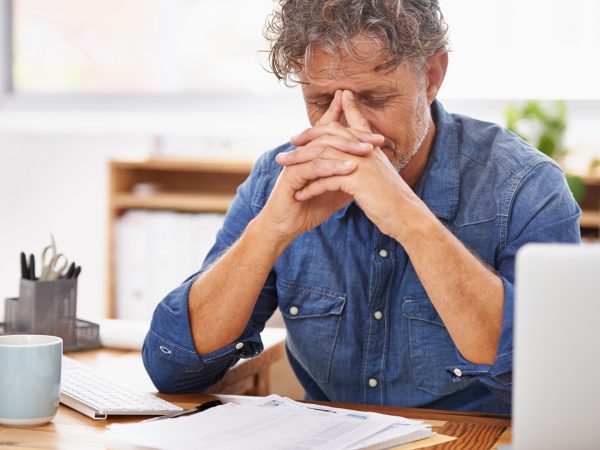 Probably not. New research from Canada has shown that working 55 or more hours a week after having had a heart attack increases the risk of having another one by about 70 percent. This finding comes from researchers in Quebec who followed 967 patients with a history of heart attack. All were under 60 years of age at the time and were working at paying jobs within the year prior to their heart attacks. They all planned to go back to work after recovery. Over the next six years, the researchers interviewed the patients and asked them to respond to questionnaires about factors including hospital re-admissions, heart disease events, lifestyle, as well as physical demands and hazardous exposures at work, including smoking, chemicals, pollution, noise, excessive heat or cold, physical exertion, work environment and total weekly working hours.
The researchers reported that among the patients who returned to work after a heart attack, those who worked 55 or more hours per week nearly doubled their risk of having a second heart attack. They also learned that one in five workers worldwide normally work more than 48 hours per week, and that earlier studies revealed an association between long working hours and increased risk of coronary heart disease and stroke.
The new study is the first to examine the effect of long working hours and job stressors with the risk of a second cardiovascular event among patients who return to work after a first heart attack. Lead author Xavier Trudel, Ph.D., of the CHU de Québec-Université Laval Research Center, said, "Once both factors are introduced, there's a noticeable increase in the risk of recurrent coronary heart disease events."
The team reported that participants who had high psychological demands at work – such as excessive quantity of work, time constraints, and much intellectual effort required, as well as few opportunities for learning, autonomy and participation in the decision-making process – were classified as having job strain. In addition, the investigators assessed the workers' social support in and out of work.
During the study, 21.5 percent of the participants had a second heart attack.  Working long hours was associated with about a 70 percent increase in the risk of a second heart attack. Men were more likely to work more overtime hours than women, and those who smoked, drank alcohol, were physically inactive and had more stressful jobs were most likely to work overtime.
The study provides new evidence that work-related factors play an important role in coronary heart disease prognosis, wrote Jian Li, M.D., Ph.D. of the University of California, Los Angeles. He added that "occupational health services are urgently needed to be incorporated into secondary prevention of cardiovascular disease."
Andrew Weil, M.D.
Source:
Xavier Trudel, PhD, et al, "Long Working Hours and Risk of Recurrent Coronary Events," Journal of the American College of Cardiology, April 2021.