Walnuts For Heart Health?
I've read that eating walnuts can promote heart health. Can you tell me how many walnuts to consume and how often?
Andrew Weil, M.D. | October 28, 2020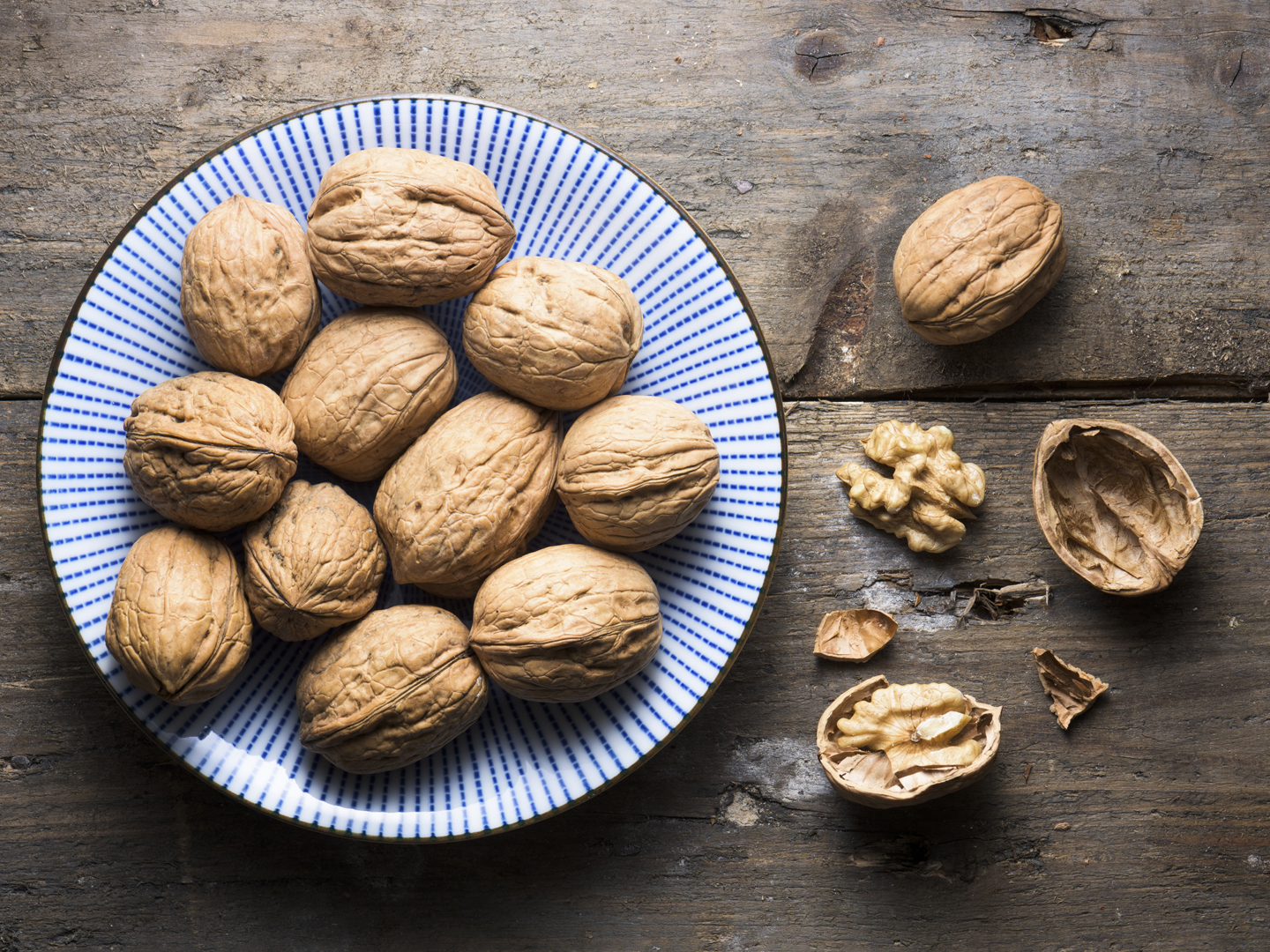 A number of studies have documented the health benefits of walnuts. The latest comes from the Hospital Clinic of Barcelona and California's Loma Linda University. Over two years, the researchers followed more than 700 healthy seniors between the ages of 63 and 79 who consumed 30 to 60 grams of walnuts daily as part of their usual diet or who followed their usual diet without walnuts. Those who consumed walnuts had reduced inflammation, indicated by lower levels of known inflammatory markers in the blood. Of the 10 inflammatory markers measured, six were significantly reduced on the walnut diet. The researchers concluded that the anti-inflammatory effects of walnuts "provide a mechanistic explanation for cardiovascular disease reduction beyond cholesterol lowering."
In 2019 a study from Penn State found that eating two to three ounces of walnuts daily as part of a healthy diet can improve gut health and reduce the risk of heart disease. That investigation included 42 men and women between the ages of 30 and 65 who were overweight or obese. They first followed an average American diet for two weeks and then were randomly assigned to one of three diets, one of which included whole walnuts. Another provided the same amount of alpha-linolenic acid (ALA) and polyunsaturated fatty acids found in walnuts, but from other sources, and a third partially substituted oleic acid for the ALA. In all three diets, walnuts or vegetable oils replaced saturated fat. The participants followed each diet for six weeks with a break between diet periods.
The walnut diet increased the numbers of intestinal bacteria associated with health benefits, including protection of the gut lining. Changes in other types of bacteria were favorably associated with reductions in blood pressure, total cholesterol and non-HDL cholesterol. "The findings add to what we know about the health benefits of walnuts, this time moving toward their effects on gut health," said Penny Kris-Etherton, Ph.D., distinguished professor of nutrition.
An investigation from the Harvard T.H. Chan School of Public Health published in 2017 found that eating several small servings of nuts per week may significantly lower your risk of heart attack or stroke. Here, researchers analyzed up to 32 years' worth of data from more than 210,000 health professionals. Results showed that compared with people who never or almost never ate nuts, those who consumed one ounce of nuts five or more times per week had a 14 percent lower risk of cardiovascular disease and a 20 percent lower risk of coronary heart disease during the study period. Both walnuts and peanuts (but not peanut butter) were linked with the lower risk.
Walnuts are definitely good for your health, as long as you don't overdo it; like other nuts, they are relatively high in calories.
Andrew Weil, M.D.
Sources:
Emilio Ros et al "Effects of 2-Year Walnut-Supplemented Diet on Inflammatory Biomarkers," Journal of the American College of Cardiology, November 10,2020
Alyssa M Tindall et al. "Walnuts and Vegetable Oils Containing Oleic Acid Differentially Affect the Gut Microbiota and Associations with Cardiovascular Risk Factors: Follow-up of a Randomized, Controlled, Feeding Trial in Adults at Risk for Cardiovascular Disease." The Journal of Nutrition, December 18, 2019, DOI: 10.1093/jn/nxz289