Is Eating Late A Heart Disease Risk?
I heard that eating after 6 p.m. raises a woman's risk of heart disease. True?
Andrew Weil, M.D. | January 16, 2020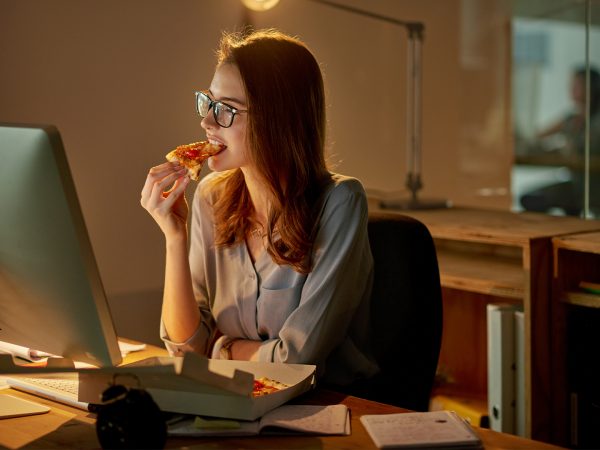 You probably heard about a study presented at a recent American Heart Association meeting that did show a higher risk of cardiovascular disease among women who ate more of their daily calories after 6:00 p.m. This finding, from a team at Columbia University's Vagelos College of Physicians and Surgeons in New York was described as preliminary, but it did reveal that heart health declined with increasing consumption of calories after that time.
These results stem from an assessment of the heart health of 112 women whose average age was 33 (44 percent of the study participants were Hispanic). All the women recorded how much and when they ate by using electronic food diaries on their computers or cell phones. They did this for one week soon after the study began and for another week 12 months later. The information from these diaries was used to determine the relationship between each woman's heart health and the timing of when they ate.
While most of the women ate some food after 6 p.m., the researchers reported that those who consumed a higher proportion of their daily calories after that time had poorer heart health. Women who consumed more of their calories after 6 also were more likely to have higher blood pressure, higher body mass index and poorer long-term control of blood sugar. (Higher blood pressure was more pronounced in Hispanic women who consumed most of their calories in the evening and persisted even after adjustments were made for age and socioeconomic status.) The study also showed declines in heart health for every one percent increase in calories consumed after 8 p.m.
Study leader, Nour Makarem, Ph.D., noted that so far, "lifestyle approaches to prevent heart disease have focused on what we eat and how much we eat." She added that the preliminary results of the study "indicate that intentional eating that is mindful of the timing and proportion of calories in evening meals may represent a simple, modifiable behavior" that can help lower the risk of heart disease.
While those findings remain to be confirmed, other research has suggested that meal timing may play a key role in weight loss and health. A study from the University of Murcia in Spain, performed in conjunction with researchers from Tufts University and Brigham and Women's Hospital in Boston, looked at the weight loss efforts of 420 overweight men and women whose average age was 42 and who had designated themselves as "early-eaters" (51 percent) or "late-eaters" (49 percent). The big meal of the day in Spain is lunch, at which 40 percent of total daily calories are consumed. In this study, the early-eaters had lunch any time before 3 p.m. and the late-eaters any time after 3 p.m. For the first five weeks of the 20-week study, the dieters lost weight at about the same pace, but after that the late-eaters' losses began to stall. When the study ended, the late-eaters had lost 22 percent less weight than the early birds and also had lower estimated insulin sensitivity, a risk factor for diabetes. The study was published in the April 2013, of the International Journal of Obesity.
Andrew Weil, M.D.
Source:
Nour Makarem et al, "Evening eating linked to poorer heart health for women," Oral Presentation 176 at American Heart Association Scientific Sessions, Philadelphia, PA, November 16-18, 2019.