Hazards of Shoveling Snow?
I've just moved to the northeast from southern California. What's all this fuss about shoveling snow? Can it really kill you?
Andrew Weil, M.D. | March 8, 2011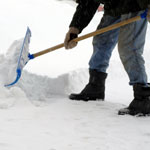 Originally published March 8, 2011.
Yes. In fact, every year an estimated 1,200 individuals die of heart attacks or other cardiac event during a blizzard, and shoveling snow is often to blame. This activity places great demands on the heart – not a problem for healthy individuals, but potentially dangerous for those with coronary artery disease, a condition that may be undiagnosed in many people. Researchers at North Dakota State University have reported that based on the increase in heart rate it causes, shoveling was a moderately intense activity for college-age individuals most of the time but for about one third of the 14 minutes they shoveled their activity qualified as vigorous.
At greatest risk of a heart attack while snow shoveling are those who already have had a heart attack or a history of heart disease, as well as individuals with high blood pressure or high cholesterol levels, smokers, and anyone leading a sedentary lifestyle. If you're in any of those categories, talk to your physician before attempting to shovel snow. Anyone who does it should follow these precautions from the North Dakota State Extension Service:
Avoid caffeine and nicotine before shoveling – these stimulants can increase your heart rate and cause blood vessels to constrict, placing extra stress on the heart.
Drink plenty of water – dehydration is an issue during exertion in both cold and hot weather.
Dress in layers, preferably in fabrics that wick away perspiration.
Warm up your muscles for a few minutes before shoveling by walking and stretching your arm and leg muscles.
Begin shoveling slowly to prevent a sudden demand on your heart; pace yourself and take breaks as needed.
Protect your back by bending from the knees and tightening your stomach muscles as you lift snow. Avoid twisting.
Stop if you feel pain.
If you're fit, shoveling for 15 minutes ranks as moderate physical activity.
Andrew Weil, M.D.