Does High Blood Pressure Cause Dementia?
Can you please explain the link between high blood pressure and Alzheimer's disease? I heard there's a connection, which has me very worried.
Andrew Weil, M.D. | September 26, 2019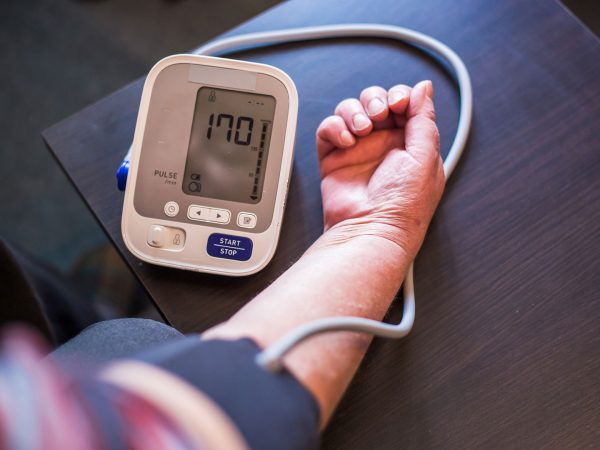 High blood pressure is a leading risk factor for heart disease, stroke and kidney failure, and recent research suggests that it also can increase the risk for dementia. The latest news on this comes from the results of two studies published in August (2019). One, from Johns Hopkins University School of Medicine, was conducted over a period of 24 years and collected data on 4,761 adults. Results showed that participants who had high blood pressure during middle age and late in life were 49 percent more likely to develop dementia. The risk was even higher among people who had high blood pressure in middle age and low blood pressure when they were older. This pattern increased the risk of dementia by 62 percent.
High blood pressure was defined as more than 140/90 while low blood pressure was less than 90/60. The researchers relied on cognitive exams, caregiver reports, hospitalization discharge codes and death certificates to classify participants' brain function and determine cognitive impairment. The study's lead author, Keenan Walker, Ph.D., assistant professor at Johns Hopkins medical school, said the study "found that individuals with high blood pressure in midlife may benefit from targeting their blood pressure to normal levels in later life, as having blood pressure that is too high or too low in late life may further increase dementia risk."
Another newly published study, from the National Institutes of Health (NIH), showed that intensively controlling an individual's blood pressure slowed the accumulation of white matter lesions in the brain more effectively than standard treatment. White matter lesions represent an increase in water content and reflect a variety of changes deep in the brain. The NIH researchers noted that several studies have suggested that people who have hypertension have a greater chance of accumulating white matter lesions and developing cognitive disorders and dementia later in life.
If you're concerned about your blood pressure and the risk it may pose of cognitive impairment later in life, you might want to discuss the new findings with your physician. Here's where you can find my recommendations for dealing with high blood pressure.
Andrew Weil, M.D.
Sources:
Keenan A. Walker et al, "Association of Midlife to Late-Life Blood Pressure Patterns With Incident Dementia," JAMA August 14, 2019, DOI: 10.1001/jama.2019.10575
R.Nick Bryan et al, "Association of Intensive vs Standard Blood Pressure Control With Cerebral White Matter Lesions," JAMA August 13, 2019, doi: 10.1001/jama.2019.10551