Mushrooms For The Skin?
Are there any medicinal mushrooms that can help with sun-damaged skin?
Andrew Weil, M.D. | September 23, 2021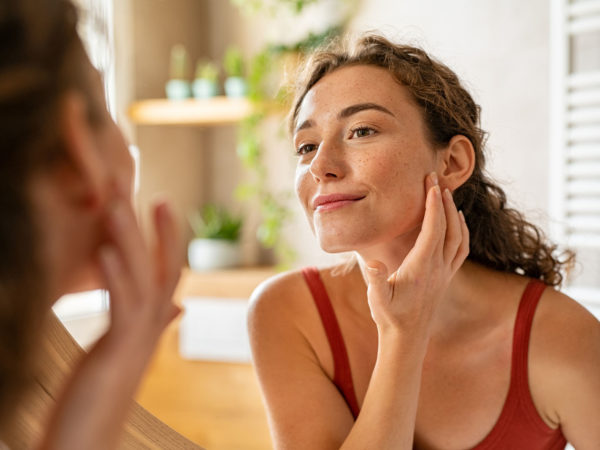 Scientists and skincare companies alike are increasingly looking to mushrooms for their possible benefits for skin. Mushrooms have long had a reputation in Asian medicine for helping improve health, maintaining vitality, and countering the adverse effects of chronic stress. Now, dermatologists are adopting certain medicinal mushrooms to help protect or improve the skin, as well.
One mushroom-related compound has been popular in skincare products for years. Kojic acid is a substance created when fermented foods such as soy sauce and rice wine break down; it can also be derived from several different types of fungi. Kojic acid appears to inhibit the formation of tyrosine, an amino acid needed to produce melanin. The latter is responsible for giving skin, hair, and eyes their dark pigmentation. For this reason, kojic acid is an ingredient in creams, cleansers, serums, and other cosmetic products aimed at brightening skin and addressing hyperpigmentation.
More recently, manufacturers have begun including extracts of specific medicinal mushrooms in skincare products. Chief among these is reishi (Ganoderma lucidum).  This woody, hard, and bitter-tasting mushroom is strictly medicinal, not a culinary ingredient. Long valued in Japanese, Chinese and Korean traditional medicine, it has been dubbed the "mushroom of immortality" and was once reserved for royalty to improve health and extend life.
Laboratory studies, as well as some research in humans, suggest that reishi has anti-inflammatory actions that may benefit the skin. Many common skin problems, including sensitivity, redness and dryness, are the end results of inflammation that may be otherwise imperceptible. Reishi may also have antioxidant properties, help prevent skin hyperpigmentation, and facilitate wound healing.
The mushrooms incorporated in the skincare products I helped develop with Origins have a long history of use for enhancing health, boosting resistance to stress, and promoting longevity. Reishi is one of those; another is chaga (Inonotus obliquus). The latter is actually a parasite of birch trees that grow in cold climates at high latitudes in the northern hemisphere, in Russia, Korea, eastern and northern Europe, Canada, and the northeastern United States. It produces a fruiting body on the trunk of the tree — a hard mass that resembles burnt charcoal. When fermented, chaga appears to have anti-inflammatory effects that may help reduce skin redness and irritation. With daily use of these products, expect to see changes in 4-6 weeks.
Andrew Weil, M.D.
Source:
Yang Y, et al. "Advances in research on the active constituents and physiological effects of Ganoderma lucidum," Biomedical Dermatology, 3, Article number: 6 (2019). https://biomeddermatol.biomedcentral.com/articles/10.1186/s41702-019-0044-0
Learn more about mushrooms & skin and check out Dr. Weil for Origins Skincare line.