Is It True That Red Light Therapy Can Treat Wrinkles?
Are there any health benefits to red light therapy?
Andrew Weil, M.D. | July 15, 2021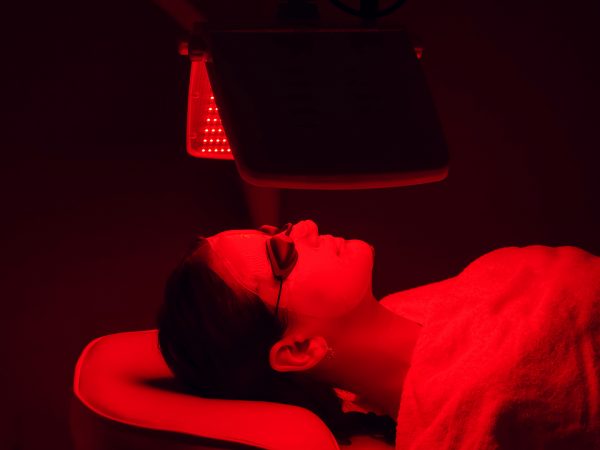 Red light therapy is an experimental technique that uses low wavelengths of red light to treat various skin concerns, such as acne, wrinkles, discoloration, and scars. Some practitioners address other health concerns with it, including arthritis. Despite the claims by proponents, however, there's still much we don't know about the effectiveness of this approach.
Red light therapy relies on a light-emitting diode (LED) device. Although LED devices have been around since the 1960s, they have only recently been investigated for their potential health benefits. In the 1990s, scientists discovered that red LED light could promote photosynthesis of plant cells. Since then, laboratory research has suggested that it may induce energy production in human skin cells, helping them repair damage and function better. Theoretically, this could improve the skin's appearance and might help treat other conditions as well.
However, research findings on the use of red light therapy for medical conditions have been mixed. For example, one review of previously published studies found that red light therapy might help ease pain in adults with various musculoskeletal conditions. Another review concluded that the technique had potential in reducing pain and inflammation and speeding healing after surgery to repair defects in the face and jaw bones.
Yet there is little to no reliable evidence to support many of the other claims for red light therapy, including its use as a treatment for depression, cancer, and cellulite. There's also not much research on it as a way to lose weight, improve immunity, or aid in detoxification.
Most research on red light therapy involves its possible benefits for the skin. In one randomized, controlled trial of 113 people, those who were treated with red LED light experienced some measurable improvement in skin complexion and texture, compared with those in the control group. Other research suggests that LED therapy, including red light therapy, may have beneficial effects on wrinkles, acne scars, and burns. It may also increase collagen production. However, many of the studies have been conducted in the lab, not on humans, and most insurance companies don't cover red light therapy.
The technique does appear to be relatively safe in the short term and free of major side effects. The U.S. Food and Drug Administration reviews red light therapy devices for safety, although at least one such product for home use was recalled due to concerns about its potential to damage the eyes of people with underlying eye conditions or who take medications that make their eyes more sensitive to light.
Some licensed physicians — typically dermatologists — may offer red light therapy, but you're more likely to find it at spas, tanning salons, and even some fitness centers. If you choose to pursue it, be sure to choose a qualified practitioner. The risk of misuse is greater when red light therapy is administered by someone inexperienced with it.
Andrew Weil, M.D.
Source:
Harvard Health Publishing, "LED lights: Are they are cure for your skin woes?" October 1, 2019. https://www.health.harvard.edu/staying-healthy/led-lights-are-they-a-cure-for-your-skin-woes