Easing Winter Skin Woes?
What can I do to relieve dry winter skin?
Andrew Weil, M.D. | December 27, 2022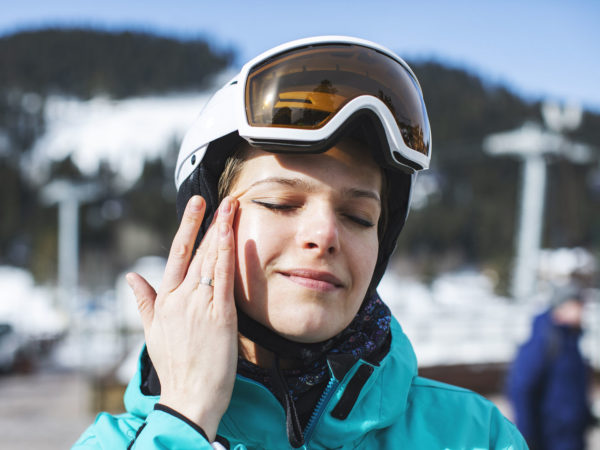 Some people love the winter season while others love to hate it. But whether you're more inclined to spend time playing in the snow or curling up in front of a roaring fire, your skin can pay the price. Because cold temperatures, biting wind, and dry air can result in dry, flaky, and itchy skin, it's important to protect yourself at this time of year.
First, cover up anytime you go outside. Winter gear like hats, scarves, and gloves don't just keep you warm. They can also shield your skin against the drying and irritating effects of cold air and wind. Although it may be tempting to cozy up in front of a stove, fireplace, or other heat source, the hot air they emit can also dry your skin.
It may seem counterintuitive, but exposure to water — particularly hot water — can strip skin of its natural oils, also causing dryness. Take lukewarm baths and showers, keeping them as brief as possible, and use a non-perfumed, unscented, moisturizing soap to cleanse your skin. Apply a thick moisturizing cream immediately after patting yourself dry. For dry, irritated skin on your face, try a product that contains medicinal mushrooms. Extracts of species such as chaga and reishi can offer benefits against inflammation. Using a humidifier in your home can help keep indoor air moist, further soothing winter skin.
You might also consider supplementing with gamma-linolenic acid (GLA), an essential omega-6 fatty acid that promotes healthy growth of skin, hair, and nails. The best sources are evening primrose oil and black currant oil; choose one and take 500 mg twice a day. Expect to wait six to eight weeks to notice positive changes to your skin.
Andrew Weil, M.D.
Source
"Dermatologists' top tips for relieving dry skin," American Academy of Dermatology. aad.org/public/everyday-care/skin-care-basics/dry/dermatologists-tips-relieve-dry-skin