Do Facial Rollers Benefit Your Skin?
I see a lot of face massagers advertised that claim to reduce puffiness and make my skin healthier. Is there any truth to that?
Andrew Weil, M.D. | March 18, 2022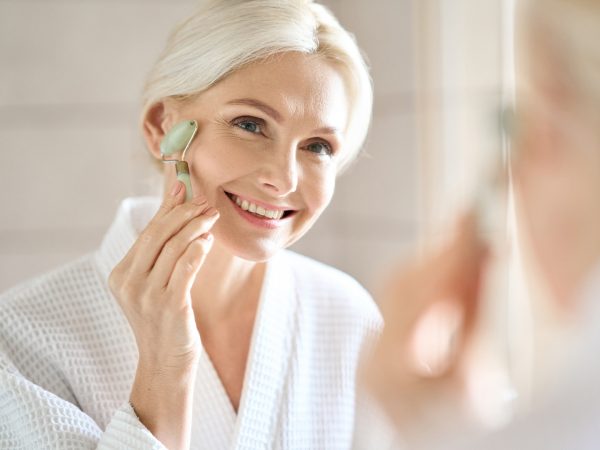 Ads for facial rollers do seem to be everywhere – from handheld rollers made of jade or other crystals to battery-powered devices that vibrate and massage at the touch of a button. Most claim to make you look younger, to relieve pain, or to reduce puffiness; some have celebrity endorsers who swear by them. They are generally inexpensive, easy enough to use, and don't appear to have any harmful effects. The evidence that they actually live up to their claims is limited.
In one 2018 study, researchers measured changes in skin blood flow and vascular dilation in two groups, one of which underwent a single five-minute facial roller session and the other a five-week daily regimen. Both groups used the devices on only one cheek, with the other cheek used as the control. The first group's participants were measured immediately after using a facial massager; they showed significantly improved skin blood flow in the treated cheek for 10 minutes after their session. The second group showed improved vascular dilation (a measure of effective blood flow) in the treated cheek at the end of the five weeks. There was no evidence that the vasodilation would continue after roller use stopped.
Another study looked at facial rollers as a means of stimulating the trigeminal nerve, a major craniofacial nerve which has some influence on the activity and tone of the vagus nerve. Appropriate stimulation of the vagus nerve can affect cardiac health, gastrointestinal function, and even mood.  The evidence that use of a facial roller would provide positive stimulation of the vagus nerve and confer benefits is not particularly strong, but used as directed facial rollers don't appear to carry any risk of significant harm.
One word of caution: Some products are claimed to be good for lymphatic drainage, but there is no real evidence for that. (I'm a proponent of lymphatic massage for those with lymphedema, but I advise getting it from qualified therapists. Find out more about lymphatic massage.
Andrew Weil, M.D.
Sources:
Hoshikawa, H., Sawazaki, K. "Effects of elastomer roller stimulation of facial skin on autonomic nervous activity." Clin Auton Res29,127–128 (2019). https://doi.org/10.1007/s10286-018-0582-3 https://pubmed.ncbi.nlm.nih.gov/30470942/
Miyaji A, Sugimori K, Hayashi N. "Short- and long-term effects of using a facial massage roller on facial skin blood flow and vascular reactivity." Complement Ther Med. 2018 Dec;41:271-276. doi: 10.1016/j.ctim.2018.09.009. Epub 2018 Sep 14. PMID: 30477852. https://pubmed.ncbi.nlm.nih.gov/30477852/