Curcumin For Burns?
I've heard that curcumin is good for treating burns. Does it really work?
Andrew Weil, M.D. | July 2, 2017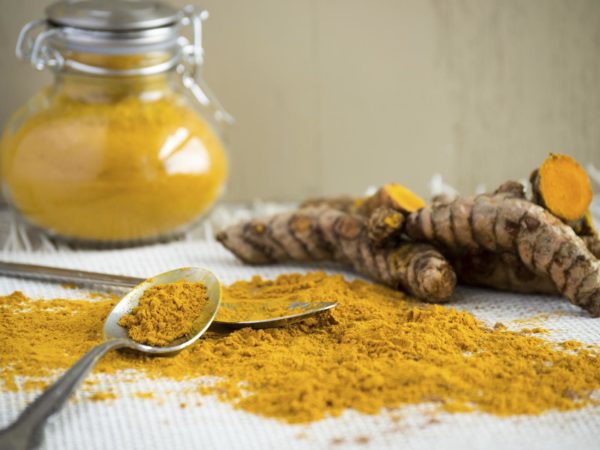 Curcumin is considered the most active constituent of turmeric, the yellow culinary spice. In addition to its frequent use as an ingredient in meals, it's used traditionally in India as a disinfectant and treatment for laryngitis, bronchitis, and diabetes. Turmeric is derived from the rhizomes (underground stems) of Curcuma longa, a relative of ginger. Curcumin, which has powerful antioxidant and anti-inflammatory properties, makes up between 2 and 6 percent of turmeric.
For treating burns, scalds and other skin problems curcumin in gel form seems to work well, according to a recently published research paper by Madalene Heng, M.D., clinical professor of dermatology at the David Geffen School of Medicine at UCLA. Dr. Heng, who has been studying curcumin gel for 25 years, believes that it is often more effective than oral forms of curcumin. Neither curcumin nor turmeric taken orally is well absorbed except in the presence of black pepper or piperine, its pungent constituent. In gel form, curcumin can penetrate the skin and reduce inflammation as well as lessen the severity of burns, decrease pain, and speed healing, with little or no scarring.
Based on her laboratory studies and experiences with patients, Dr. Heng attributes curcumin's effectiveness in treating burns and scalds to its anti-inflammatory activity and its ability to influence an enzyme, phosphorylase kinase. Wound healing begins with the release of this enzyme about 5 minutes after injury and leads to the activation of more than 200 genes involved in the healing process.
In her research paper, Dr. Heng describes burns suffered by an 11-year-old boy who poured lighter fluid on warm barbeque coals. The resulting fire singed the boy's hair, eyelashes, forehead, ears, nose, cheeks and neck. He was treated with curcumin gel applied hourly for several hours and then as often as possible for a few days. Five days later his swelling and pain had decreased significantly, and his skin was beginning to regrow. After 6 months, he had no signs of the burns.
Dr. Heng also presents the case of a 2-year-old who burned his palms when he fell into a campfire. Four days later, he had large blisters on both palms and was in a lot of pain. Curcumin gel was then applied hourly, and within 24 hours, he was much improved. Two months later he was completely healed with no scarring, she reported.
Curcumin gel has also been used for treatment of psoriasis and may prove to be worthwhile for other skin problems. For the record, Dr. Heng disclosed a conflict of interest at the conclusion of her research paper. She is affiliated with Omnicure, Inc., a company that makes and manufactures one brand of curcumin gel. There are others on the market.
Andrew Weil, M.D.
Source:
Madalene Heng, "Phosphorylase Kinase Inhibition Therapy in Burns and Scalds." BioDiscovery, February 24, 2017,