Benefits Of Hyaluronic Acid On Skin
Is hyaluronic acid an effective ingredient in skin creams? Can it really eliminate lines and wrinkles?
Andrew Weil, M.D. | February 16, 2023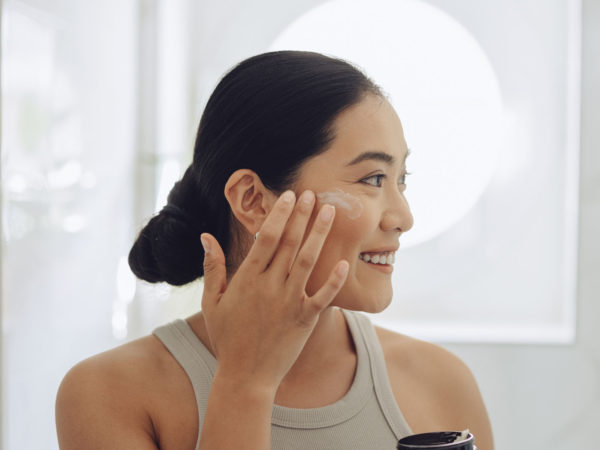 Hyaluronic acid (HA) is a natural lubricant produced by the body and found in eyes, joints, and skin. It's been used in drops for those with dry eyes, as an injectable for those with osteoarthritis of the knee, and in creams and fillers to address aging skin. It's not a miracle cure, but it's a powerful substance that I think is worthy of consideration for certain uses, including as a moisturizer.
The property that makes hyaluronic acid so useful is its ability to hold moisture – it can retain 1,000 times its weight in water, with a single gram (a fraction of a teaspoon) of HA holding up to six liters (more than a gallon and a half). Youthful skin naturally has a lot of HA in it. Unfortunately, skin loses much of its hyaluronic acid as we age. One study measured levels of hyaluronic acid and sulfates in the skin of adults aged 19 to 75 and found that HA levels dropped significantly after age 47. That loss of moisture has predictable results: dryness and wrinkles.
That inevitable drying out of the skin over the years is what make daily moisturizing even more important as we age. Well-moisturized skin is healthy skin, which is why I recommend (and follow) a regular regimen of skin care. I included hyaluronic acid as one of the ingredients in my own line of skin care products, which is focused on keeping skin healthy and well hydrated.
I would hesitate to recommend HA injectable fillers that claim to reduce the appearance of wrinkles, since the effects are temporary, and the procedure has some risks. Although many people use HA fillers successfully, there are enough reported cases of adverse reactions that I don't believe the benefits are worth it.
Of note, one recent study tested the effect of hyaluronic acid when used as an additive to a silicone gel that has already been shown to reduce scars. That paper reported better results from a formula that included HA when compared to using silicone alone. I find that very promising – further evidence of HA's benefits when used topically.
 See also What Is Hyaluronic Acid?
Andrew Weil, M.D.
Source
John HE, Price RD. "Perspectives in the selection of hyaluronic acid fillers for facial wrinkles and aging skin." Patient Prefer Adherence. 2009 Nov 3;3:225-30. doi: 10.2147/ppa.s3183. PMID: 19936165; PMCID: PMC2778417. ncbi.nlm.nih/pmc/articles/PMC2778417/
Papakonstantinou E, Roth M, Karakiulakis G. "Hyaluronic acid: A key molecule in skin aging." Dermatoendocrinol. 2012 Jul 1;4(3):253-8. doi: 10.4161/derm.21923. PMID: 23467280; PMCID: PMC3583886. ncbi.nlm.nih/pmc/articles/PMC3583886/
Longas MO, Russell CS, He XY. "Evidence for structural changes in dermatan sulfate and hyaluronic acid with aging." Carbohydr Res. 1987 Jan 15;159(1):127-36. doi: 10.1016/s0008-6215(00)90010-7. PMID: 3829041. pubmed.ncbi.nlm.nih/3829041/
Rongthong A, Wanitphakdeedecha R, Maiprasert M, Cembrano KAG, Voravutinon N, Rakchart S, Sermswan K, Koonngam P. "Efficacy and safety of hyaluronic acid filler on the treatment of horizontal neck lines." J Cosmet Dermatol. 2022 Dec 27. doi: 10.1111/jocd.15539. Epub ahead of print. PMID: 36575878. pubmed.ncbi.nlm.nih/36575878/
Alam MS, Ansari A, Ahsan I, Shafiq-Un-Nabi S, Md S, Shaik RA, Eid BG, Ahmad MZ, Ahmad J. Topical gel containing Polysiloxanes and hyaluronic acid for skin scar: Formulation design, characterization, and In vivo activity. J Cosmet Dermatol. 2023 Jan 6. doi: 10.1111/jocd.15574. Epub ahead of print. PMID: 36606411. pubmed.ncbi.nlm.nih/36606411/
Learn more about Dr. Weil's partnership with Origins and how we use the science of anti-inflammation to address skin care and aging skin.