Balding Too Young?
My son is balding very quickly. He just turned 22. Is there anything he can do to slow or stop his hair loss?
Andrew Weil, M.D. | May 8, 2017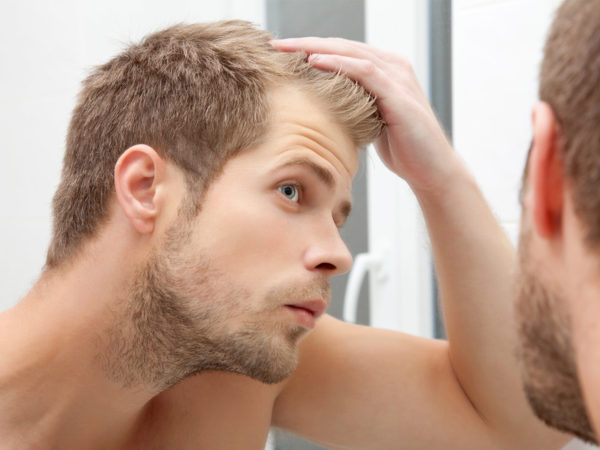 Losing hair at a young age can be distressing. I suspect your son's problem is male pattern baldness, which develops when hair follicles are exposed to dihydrotestosterone (DHT), a metabolite of the male sex hormone testosterone. High levels of testosterone are believed to cause baldness in genetically susceptible men. Male pattern baldness runs in families; the gene for it is inherited from the mother.
There's not much you can do to slow or stop this form of hair loss. You may be aware that according to his physician, President Trump takes the drug Propecia (finasteride) to help keep his hair. The drug is more effective for stopping hair loss than it is at restoring what is already gone. It works by inhibiting conversion of testosterone to DHT. Propecia and a similar drug, Proscar, are intended as treatments for benign prostatic hyperplasia (BPH), a non-malignant enlargement of the prostate gland common among men over 50. The dose of Propecia used to prevent hair loss is much lower than that used to treat BPH. Side effects of the lower dose are reported to be rare but include loss of sex drive and reduced ability to get an erection. Men 55 and older who take the larger dose for BPH may have an increased risk of aggressive prostate cancer. The risk for men ON low-dose therapy to prevent hair loss is unknown. I do not recommend using this drug to deal with balding.
I've read a few reports that the herb saw palmetto, which I recommend to treat mild to moderate BPH, can promote hair growth in men. While I have seen no evidence that it works, some people suggest squeezing out the content of saw palmetto softgel capsules and rubbing it into the scalp.
Although he can't alter his genetic heritage, your son might consider nutritional approaches, which I recommend for general health of hair, skin and nails. Make sure he gets enough omega-3 fatty acids by eating salmon, sardines, herring or mackerel two or three times a week or by taking two to three grams a day of supplemental fish oil. In addition, take GLA (gamma-linolenic acid) in the form of black currant oil or evening primrose oil, available in capsules or soft gels at health food stores. Try 500 mg of either twice a day for six to eight weeks to see if it helps along with the omega-3s.
Andrew Weil, M.D.
Sources:
bmjopen.bmj.com/content/3/4/e002537
medlineplus.gov/ency/article/001177.htm