Idiopathic Pulmonary Fibrosis: A Bad Breathing Problem?
What is idiopathic pulmonary fibrosis and what can you do about it? A friend was just diagnosed and is very depressed. It is has been causing her breathing problems for years.
Andrew Weil, M.D. | April 5, 2016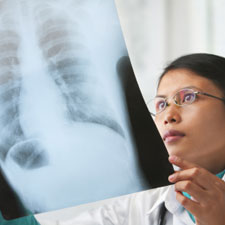 Pulmonary fibrosis is a very serious lung disease. It is sometimes caused by occupational exposure to asbestos or metal dusts, leading to scarring of the lungs that eventually impairs their ability to provide the body with oxygen. Other known causes include diseases like sarcoidosis, rheumatoid arthritis, and scleroderma. Often, the cause isn't known, and when this is the case, the disease is referred to as idiopathic pulmonary fibrosis (IPF). We're not sure how many people in the U.S. are affected. In those over age 50, estimates range from 8.8 to 17.4 per 100,000. Of these, 10 to 15 percent of all cases are familial, meaning that someone else in the family also has the condition.
Symptoms usually begin with a dry cough and shortness of breath on exertion that worsens over time and makes everyday activities difficult. While IPF usually occurs in middle age, all age groups can be affected and men and women equally. Early diagnosis and treatment can slow the progression of IPF.
In the past, conventional treatment usually started with oral prednisone, an immunosuppressive steroid drug. But in October 2014 the FDA approved two drugs that have been shown to help slow the loss of lung function in mild to moderate cases by about 48 percent and significantly reduce deaths from the disease. Esbriet (pirfenidone) is believed to work by interfering with the production of hard fibrous tissue that can scar the lungs. The other drug, Ofev (nintedanib), inhibits fibrosis by targeting various growth factors.
Despite treatment, some patients require supplemental oxygen to reduce breathlessness and remain active. In advanced cases, lung transplants may be necessary.
Exercise is also an important component of treatment and can help improve muscle strength and breathing ability. Even if they need oxygen, patients are encouraged to manage a daily walk or a ride on a stationary bike.
I also recommend following an anti-inflammatory diet and taking an antioxidant vitamin and mineral supplement. Cordyceps and reishi mushrooms are both beneficial for the lungs. It is best to use extracts of these in liquid or capsule form, following dosage directions on the product. For those on prednisone, taking whole licorice may make it possible to lower the dose and minimize side effects. Look for extracts with six to 10 percent glycyrrhizin and follow the dosage recommended on the package. Since whole licorice can worsen high blood pressure, check with your doctor before taking it if you are hypertensive.
In addition, I would recommend mind/body approaches such as hypnosis or guided imagery. Practicing breathing techniques can also be helpful, as can energy medicine and Chinese medicine.
Andrew Weil, M.D.
Source:
"FDA approves Esbriet to treat idiopathic pulmonary fibrosis," press release, U.S. Food and Drug Administration, October 15, 2014, http://www.fda.gov/NewsEvents/Newsroom/PressAnnouncements/ucm418991.htm, accessed January 14, 2016