Do Mites Cause Rosacea?
My doctor told me that my rosacea is caused by mite feces in the pores. Is this true? How do the mites get there? Can I get rid of them?
Andrew Weil, M.D. | September 12, 2013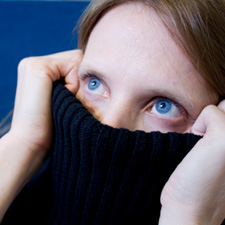 Rosacea is a chronic and persistent condition in which the skin on the cheeks, nose, chin, eyelids, or forehead becomes inflamed and red, often producing small pimples and noticeable blood vessels. We don't know for sure what causes this condition. It tends to run in families so there might be a genetic link, but no single cause has been identified. However, the role of Demodex mites that live on the skin received a lot of publicity following an analysis published in 2012 that reviewed the medical literature associating the mites with rosacea. Many of the news reports seemed to suggest that the mite theory was a new one, but in fact, it has a long history.
The presence of these mites on facial skin was discovered in 1841 and the Demodex link to rosacea was first suggested in 1925. We still don't know, however, how much of a contribution – if any – the mites make to the condition. They aren't exclusive to the skin of individuals with rosacea; most of us have them, although studies suggest that larger populations dwell on the faces of people with rosacea. The mites can be found elsewhere on the body, too, but they prefer the oily skin of the face to drier areas. Some studies have reported that Demodex are more common in individuals with HIV, children with leukemia, and patients who are taking immunosuppressive drugs, which suggests that the bugs may proliferate when the immune system isn't fully functioning.
Conventional medicine treats rosacea with topical creams and gels that contain antibiotics (such as metronidazole); oral antibiotics (such as tetracycline, minocycline, and doxycycline); and the acne drug Accutane (isotretinoin). Laser surgery may also help reduce redness in severe cases. One theory holds that metronidazole may be an effective treatment for rosacea because it can destroy bacteria that inhabit the mites (it doesn't kill the mites themselves).
My recommendations for dealing with rosacea include stress reduction, such as the Relaxing Breath, since outbreaks may be stress-related. You also could supplement with gamma-linolenic acid, which improves the general health of the skin. Good sources include evening primrose oil and black currant oil. Take 500 mg twice a day of either, and expect to wait at least six to eight weeks to notice results. Anti-inflammatory herbs such as ginger and turmeric may also be effective; these can be added to foods and/or taken as supplements.
Andrew Weil, M.D.