Catching COVID-19?
I know that social distancing is the best way to avoid the coronavirus, but I'm wondering about the risks posed by traveling to work or elsewhere.
Andrew Weil, M.D. | October 15, 2020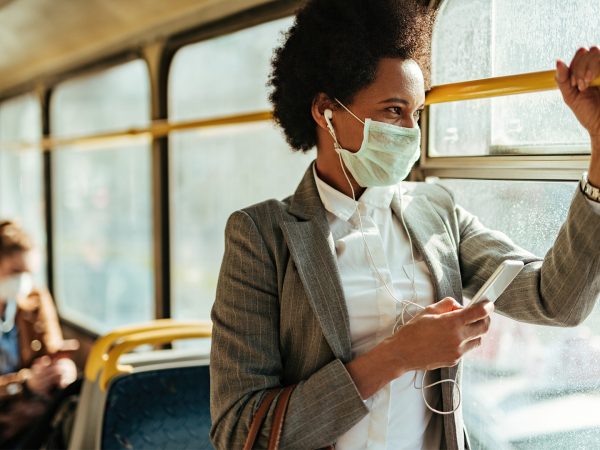 You raise an important question about social distancing. New research has suggested that using public transportation or otherwise traveling from home is linked with a significantly higher risk of testing positive for the COVID-19. These findings come from a Johns Hopkins Bloomberg School of Public Health study published in September (2020). Researchers there surveyed a random sample of more than 1,000 people in Maryland about their use of public transport and found that those who reported being frequent users of were about 4.3 times more likely to have tested positive for the COVID-19 infection than those who never used public transit during the same time period.
The 1,030 study participants all lived in Maryland, where there have been more than 113,000 confirmed COVID-19 cases and nearly 3,700 confirmed deaths from the disease.
Senior study author Sunil Solomon, an associate professor of medicine, said the new findings support the idea that "if you're going out, you should practice social distancing to the extent possible because it does seem strongly associated with a lower chance of getting infected."
So far, the coronavirus has infected nearly 27 million people worldwide. According to the World Health Organization, some 900,000 of those infected have died.
The Hopkins researchers concluded after considering all the variables they could evaluate that spending more time in public places was strongly associated with having a history of a COVID-19 infection. In addition to the use of public transportation, the investigators found that infection was 16 times more common among people who reported having visited a place of worship three or more times in the two weeks prior to the study compared to those who reported not having visited places of worship during that time. The investigators wrote that their survey didn't distinguish between visiting a place of worship for a religious service or for other purposes, such as a meeting, summer camp or meal.
The study also found that participants who reported "always" practicing social distancing outdoors were only 10 percent as likely to have a history of a COVID-19 infection as those who reported never practicing social distancing.
The Hopkins team also noted a greater use of social distancing practices among some groups considered especially vulnerable to serious COVID-19 illness. They found that 81 percent of participants older than 65 reported always practicing social distancing at outdoor activities compared to only 58 percent of those between the ages of 18 and 24.
The researchers suggested that studies similar to theirs could become useful tools for predicting where and among which groups infectious diseases will spread most quickly.
Andrew Weil, M.D.
Source:
Sunil Solomon et al, "Rapid real-time tracking of non-pharmaceutical interventions and their association with SARS-CoV-2 positivity: The COVID-19 Pandemic Pulse Study," September 2, 2020, doi: 10.1093/cid/ciaa1313