Alzheimer's Disease And "Type 3 Diabetes"
Could our epidemic of cognitive decline be related to insulin disorders similar to those implicated in diabetes?
Andrew Weil, M.D. | March 5, 2023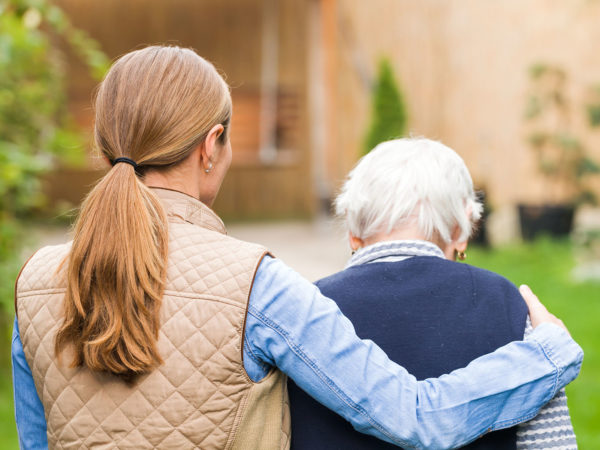 There is no question that Alzheimer's disease (AD) is a public health crisis, one that is getting worse. The Alzheimer's Association estimated that in 2022 there were 6.5 million American age 65 or over already living with the disease, with as many as 13 million cases expected by 2050 at the current rate. It's no wonder that federal funding for Alzheimer's research is now more than $3.7 billion a year in a quest to cure, prevent, or at least slow the development of this devastating condition.
Much of the research has focused on the accumulation of amyloid beta plaques and tangles of tau protein in the brain. Researchers hope to find ways of detecting those abnormalities earlier, since they can help predict the development of Alzheimer's disease years or even decades before symptoms emerge.
Another line of investigation, however, has been examining the role of insulin in the development of AD. As early as 1999, The Rotterdam Study had identified a link between Type 2 diabetes and an increased risk of developing dementia. In that study of a group of 6,370 elderly subjects, a diagnosis of Type 2 diabetes nearly doubled the risk that the subject would develop dementia within just two years.
A research team at Brown Medical School introduced the concept of "Type 3 diabetes" in a 2005 paper published after their study of insulin and insulin-like growth factor (IGF) in the brain. Their research noted significant differences between the brains of those with Alzheimer's disease and a control group of cognitively normal adults.
In that landmark paper, researcher studied post-mortem tissue samples of 54 individuals, 28 of whom had had diagnoses of AD. In the study, mean levels of insulin and IGF were 8 to 10 times lower in the hippocampus and hypothalamus (parts of the brain critical for memory and cognition) of those with the disease than in the control group. Researchers proposed that these findings call for recognition of a new type of diabetes, one that reflects the similarities to Type 1 and Type 2, but focused on the brain.
Although not yet universally accepted as a separate type of diabetes, the concept of Alzheimer's disease as a disorder of insulin has received significant attention over the past two decades. Many studies have found an association between Type 2 diabetes and Alzheimer's disease and have noted similarities between how impaired insulin metabolism affects the brain and how it affects other organs.
The Centers for Disease Control and Prevention (CDC) has published a list of lifestyle factors that influence the risk of developing Alzheimer's disease. That list will look familiar to anyone who has an interest in reducing risk of developing diabetes: the top four high blood pressure, inactivity, obesity and diabetes. The similarity in risk factors is striking, and it's not a big leap to conclude that the same habits that increase risk of diabetes also increase risk of Alzheimer's disease.
We cannot eliminate the risks of developing dementia completely (some individuals have a genetic predisposition), but a 2022 study from the University of Minnesota found that 41 percent of all cases of Alzheimer's disease in the U.S. are associated with just 12 lifestyle factors. The top three are high blood pressure, obesity, and a sedentary lifestyle.
With so much at stake – the lost quality of life, the burden on families, and the enormous health care costs – we should be doing everything in our control to reduce our own risk, and the risk of loved ones. For more details on managing risk, I suggest reading my guide to Type 2 Diabetes. Habits that reduce your risk of that disorder are also likely to help protect against Alzheimer's disease.
Andrew Weil, M.D.
Sources
Steen E, Terry BM, Rivera EJ, Cannon JL, Neely TR, Tavares R, Xu XJ, Wands JR, de la Monte SM. Impaired insulin and insulin-like growth factor expression and signaling mechanisms in Alzheimer's disease–is this type 3 diabetes? J Alzheimers Dis. 2005 Feb;7(1):63-80. doi: 10.3233/jad-2005-7107. PMID: 15750215.  pubmed.ncbi.nlm.nih/15750215/
Shea D, Colasurdo E, Smith A, Paschall C, Jayadev S, Keene CD, Galasko D, Ko A, Li G, Peskind E, Daggett V. SOBA: Development and testing of a soluble oligomer binding assay for detection of amyloidogenic toxic oligomers. Proc Natl Acad Sci U S A. 2022 Dec 13;119(50):e2213157119. doi: 10.1073/pnas.2213157119. Epub 2022 Dec 9. PMID: 36490316; PMCID: PMC9897489. pubmed.ncbi.nlm.nih/36490316/
Hamzé R, Delangre E, Tolu S, Moreau M, Janel N, Bailbé D, Movassat J. Type 2 Diabetes Mellitus and Alzheimer's Disease: Shared Molecular Mechanisms and Potential Common Therapeutic Targets. Int J Mol Sci. 2022 Dec 4;23(23):15287. doi: 10.3390/ijms232315287. PMID: 36499613; PMCID: PMC9739879. pubmed.ncbi.nlm.nih/36499613/
Rukmangadachar LA, Bollu PC. Amyloid Beta Peptide. [Updated 2022 Aug 29]. In: StatPearls [Internet]. Treasure Island (FL): StatPearls Publishing; 2022 Jan-. Available from: ncbi.nlm.nih/books/NBK459119/
A. Ott, R.P. Stolk, F. van Harskamp, H.A. P. Pols, A. Hofman, M.M. B. Breteler. Diabetes mellitus and the risk of dementia – The Rotterdam Study. Neurology Dec 1999, 53 (9) 1937; DOI: 10.1212/WNL.53.9.1937 n.neurology/content/53/9/1937
Omura JD, McGuire LC, Patel R, et al. Modifiable Risk Factors for Alzheimer Disease and Related Dementias Among Adults Aged ≥45 Years — United States, 2019. MMWR Morb Mortal Wkly Rep 2022;71:680–685. DOI: dx.doi/10.15585/mmwr.mm7120a2
Lee M, Whitsel E, Avery C, Hughes TM, Griswold ME, Sedaghat S, Gottesman RF, Mosley TH, Heiss G, Lutsey PL. Variation in Population Attributable Fraction of Dementia Associated With Potentially Modifiable Risk Factors by Race and Ethnicity in the US. JAMA Netw Open. 2022 Jul 1;5(7):e2219672. doi: 10.1001/jamanetworkopen.2022.19672. PMID: 35793088; PMCID: PMC9260480. pubmed.ncbi.nlm.nih/35793088/