Can Gum Disease Cause High Blood Pressure?
I'm told that having gum disease makes it harder to control blood pressure. Can you tell me what one has to do with the other?
Andrew Weil, M.D. | January 8, 2018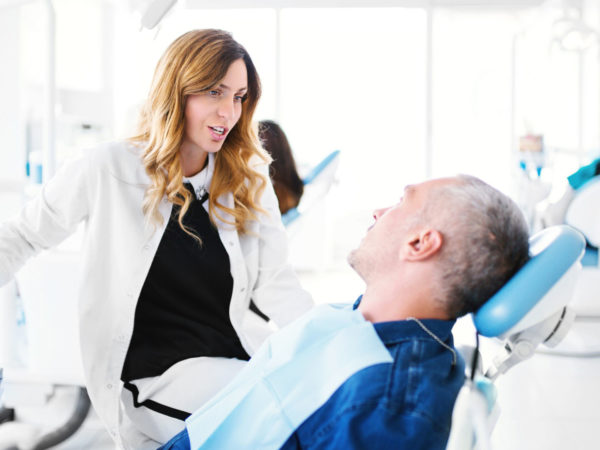 An investigation from Italy published in October (2018) revealed a connection between gum disease and high blood pressure. The researchers reviewed records of medical and dental exams of more than 3,600 people with high blood pressure and found that those with healthier gums had lower blood pressure and that medication for high blood pressure was less effective in those with gum disease.
Gum disease – known as periodontitis – is a chronic inflammatory disorder marked by red, swollen, tender gums or gums that bleed when you brush or floss. Other signs: teeth that look longer than they used to, an indication of receding gums, or teeth that are loose and separating from the gum line.
The Italian report concluded that even on medication people with high blood pressure and periodontitis were 20 percent less likely than normal to succeed in reducing their blood pressure to healthy levels compared to people whose teeth and gums were in good shape. Those with severe periodontitis had systolic blood pressure (the top number) that averaged three mm of mercury higher than those with good oral health.
It's estimated that high blood pressure affects up to 40 percent of people age 25 and older worldwide. Untreated or poorly controlled it can lead to heart attack, stroke, heart failure and kidney disease. It is estimated to claim 7.5 million lives worldwide per year.
Lead researcher, Davide Pietropaoli, a doctor of dental surgery at Italy's University of L'Aquila, recommends that physicians pay close attention to patients' oral health, particularly those being treated for high blood pressure, and advise those with signs of periodontal disease to seek dental care. He also urges dentists to be aware that oral health "is indispensable to overall physiological health, including cardiovascular status." He maintains that good oral health is just as important for the control of high blood pressure as such lifestyle interventions as a low-salt diet, regular exercise and weight control.
The investigation wasn't designed to explain exactly how periodontal disease interferes with blood pressure control, but the results are consistent with previous research linking low-grade oral inflammation with blood vessel damage and cardiovascular risk.
If you have signs of gum disease – whether or not you have high blood pressure – be sure to see your dentist promptly. In addition to the new Italian findings, studies published in the last two years (2017 and 2018) showed that gum disease is linked to increased risks of cardiovascular disease and cancer. One found a 24 percent increase in cancer risk among individuals with severe periodontal disease. And investigational data published in 2017 found that gum disease and loss of teeth are linked to a higher risk of death from cardiovascular disease in postmenopausal women.
Andrew Weil, M.D.
Learn more: Practical Tips For Lowering Blood Pressure
Source:
Davide Pietropaoli et al, "Poor Oral Health and Blood Pressure Control Among US Hypertensive Adults." Hypertension, October 20, 2018.