New Breast Cancer Risk?
A few years ago I had a false-positive mammogram. Everything has been okay since then, but now I've heard that getting a false-positive raises the risk of breast cancer. How worried should I be?
Andrew Weil, M.D. | March 15, 2016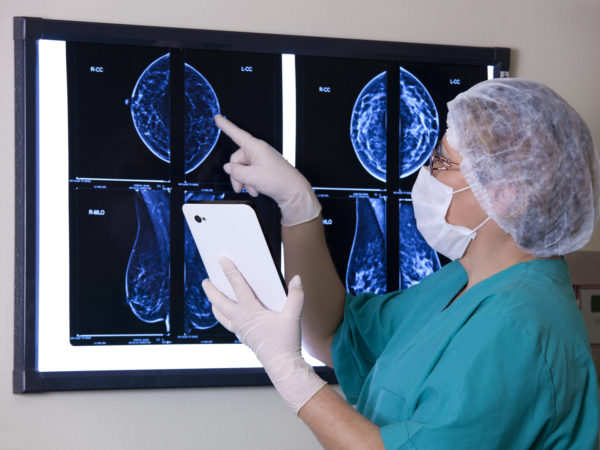 A recent study from the University of North Carolina showed that women who have had a false-positive mammogram result are at increased risk of breast cancer for the following 10 years. ("False-positive" means that a medical test wrongly suggests disease when none is present.)
False-positive mammogram results are not uncommon. The researchers noted that earlier studies have shown that about 16 percent of first mammograms and 10 percent of later ones produce false-positive findings. Study leader Louise M. Henderson, Ph.D. noted that the chance of having a false-positive result is 61 percent for women who have 10 mammograms over the course of 10 years and 42 percent for those screened every two years.
To arrive at their conclusions Dr. Henderson's team analyzed data from more than 2.2 million screening mammograms in 1.3 million women ages 40 to 74 between the years of 1994 and 2009. After the initial screening, the women were followed for 10 years, during which 48,735 of them were diagnosed with breast cancer.
In a press release accompanying publication of the study Dr. Henderson explained that suspicious findings on a mammogram typically mean referral for additional imaging and in some cases for a breast biopsy. The study found that for women referred for more imaging the increased risk of developing breast cancer over the next 10 years was 39 percent compared to women whose mammograms were negative. Those who were referred for a breast biopsy had a 76 percent increased chance of developing breast cancer over 10 years compared to women with negative mammograms.
Don't let those numbers scare you. Dr. Henderson says that the 39 percent translates to one or two more women developing breast cancer over 10 years compared to women in the study who had a negative mammogram, while the 76 percent actually means an additional one to three women developing the disease over the 10 years, again compared to those with negative results.
Women who were given false-positive results in this study tended to have extremely dense breasts, which make mammograms more difficult to read. For most of the women in the study, however, breast density didn't affect the association between false-positive mammograms and subsequent breast cancer.
While your concern about your false-positive mammogram is understandable, this study's findings suggest that your chances of developing breast cancer within 10 years of that result are only slightly higher than those of women whose mammograms were negative.
Andrew Weil, M.D.
Source:
Louise M. Henderson et al, "Increased Risk of Developing Breast Cancer after a False-Positive Screening Mammogram." Cancer Epidemiology, Biomarkers & Prevention, December 2015 DOI: 10.1158/1055-9965.EPI-15-0623