How Safe Is Soy?
I keep reading contradictory things about soy and women's health – that it relieves hot flashes, that it doesn't, and that it can cause breast cancer or not. Can you update me on the pros and cons of soy foods for women?
Andrew Weil, M.D. | June 23, 2023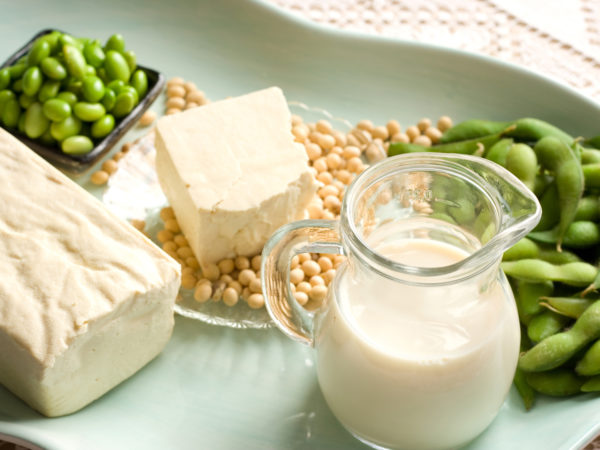 Whole soy foods – such as tofu, tempeh, soy milk, soy nuts, and edamame – are rich in protein, B vitamins, fiber, potassium, and magnesium. In addition to being excellent nutritional choices, especially as alternatives to red meat, there is evidence that whole soy products help protect against some cancers and have benefits for heart health. While there has been controversy about soy foods and women's health, I don't find any reason for most women to avoid them. I do advise getting your soy in food, not from soy supplements or processed products.
Soy foods contain isoflavones, which are phytoestrogens, meaning they are derived from plants and can act like estrogen in the body. That led to some confusion about the effect of dietary soy in girls and women, especially after some studies in mice showed an increase in breast cancer associated with high doses of isoflavones. Fortunately, a 2011 study debunked that by showing how differently mice and humans metabolize isoflavones. Isoflavones have not been shown to increase the risk of breast cancer in humans, and may actually reduce it.
Given how common soy foods are in Asian diets, it would stand to reason that any association between isoflavones and an increased incidence of breast cancer would be evident in Asian women. In fact, the opposite appears to be true. The Shanghai Women's Health Study – a large-scale, long-term study in which Vanderbilt University, the National Cancer Institute, and the Shanghai Cancer Institute followed more than 70,000 Chinese women to monitor their health risks – found that women who ate the most soy had a 59% lower risk of breast cancer before menopause than those who ate the least. The risk was even lower in those who had eaten soy regularly during their youth. (There was no difference in breast cancer risk in post-menopausal women.)
Another study, this one of more than 50,000 North American women, showed no association between soy products and breast cancer. It did, however, find an increased risk of breast cancer in women who reported drinking cow's milk. A 2023 European review of multiple studies found a strong association between consuming commercial cow's milk and developing estrogen receptor-α-positive breast cancer.
As for relief of menopausal hot flashes, the evidence is a bit mixed. One review of 17 previous studies looked at whether or not soy supplements can help relieve these symptoms. The researchers from Loma Linda University in California concluded that taking extracted soy isoflavones led to a 21 percent reduction in hot flashes compared to a placebo. While the conclusions of the 17 studies varied, the researchers note that overall, they showed a "pattern" of soy isoflavones providing more relief than placebos. (The median amount of soy isoflavones used in the studies was 54 mg taken daily for anywhere from six weeks to 12 months, and researchers reported that supplements providing more than 18.8 mg of the soy isoflavone genistein were more than twice as potent at reducing hot flash frequency than supplements containing less genistein.)
Given the review of this evidence, the researchers suggest that soy isoflavones may be worth a try for some women. However, the study leader advises that women look elsewhere for relief if the soy isoflavones don't help within four weeks.
Evidence for other health benefits has been mixed. In 2017 the U.S. Food and Drug Administration (FDA) revoked an earlier claim that soy protein could reduce the risk of heart disease, saying that the evidence is inconsistent. However, there is still good evidence that whole soy products may reduce levels of LDL ("bad cholesterol"). Since soy foods have negligible saturated fat, they remain excellent substitutes for animal products.   
One important note: highly processed food products that include isoflavones or soy protein isolates do not necessarily have the health benefits of whole soy foods. A serving is a cup of soymilk or one half-cup of tofu, tempeh, edamame, or soy nuts. I recommend one to two servings a day of these whole soy foods.
Andrew Weil, M.D.
Sources
Setchell KD, Brown NM, Zhao X, Lindley SL, Heubi JE, King EC, Messina MJ. Soy isoflavone phase II metabolism differs between rodents and humans: implications for the effect on breast cancer risk. Am J Clin Nutr. 2011 Nov;94(5):1284-94. doi: 10.3945/ajcn.111.019638. Epub 2011 Sep 28. PMID: 21955647; PMCID: PMC3192476. pubmed.ncbi.nlm.nih/21955647/
Chen LR, Chen KH. Utilization of Isoflavones in Soybeans for Women with Menopausal Syndrome: An Overview. Int J Mol Sci. 2021 Mar 22;22(6):3212. doi: 10.3390/ijms22063212. PMID: 33809928; PMCID: PMC8004126. pubmed.ncbi.nlm.nih/33809928/
Melnik BC, John SM, Carrera-Bastos P, Cordain L, Leitzmann C, Weiskirchen R, Schmitz G. The Role of Cow's Milk Consumption in Breast Cancer Initiation and Progression. Curr Nutr Rep. 2023 Mar;12(1):122-140. doi: 10.1007/s13668-023-00457-0. Epub 2023 Feb 2. PMID: 36729355; PMCID: PMC9974716. pubmed.ncbi.nlm.nih/36729355/
Blanco Mejia S, Messina M, Li SS, Viguiliouk E, Chiavaroli L, Khan TA, Srichaikul K, Mirrahimi A, Sievenpiper JL, Kris-Etherton P, Jenkins DJA. A Meta-Analysis of 46 Studies Identified by the FDA Demonstrates that Soy Protein Decreases Circulating LDL and Total Cholesterol Concentrations in Adults. J Nutr. 2019 Jun 1;149(6):968-981. doi: 10.1093/jn/nxz020. PMID: 31006811; PMCID: PMC6543199. pubmed.ncbi.nlm.nih/31006811/
Petersen KS. The Dilemma With the Soy Protein Health Claim. J Am Heart Assoc. 2019 Jul 2;8(13):e013202. doi: 10.1161/JAHA.119.013202. Epub 2019 Jun 27. PMID: 31242789; PMCID: PMC6662348. pubmed.ncbi.nlm.nih/31242789/
Fraser GE, Jaceldo-Siegl K, Orlich M, Mashchak A, Sirirat R, Knutsen S. Dairy, soy, and risk of breast cancer: those confounded milks. Int J Epidemiol. 2020 Oct 1;49(5):1526-1537. doi: 10.1093/ije/dyaa007. PMID: 32095830; PMCID: PMC8453418.  pubmed.ncbi.nlm.nih/32095830/
Taku K, Melby MK, Kronenberg F, Kurzer MS, Messina M. Extracted or synthesized soybean isoflavones reduce menopausal hot flash frequency and severity: systematic review and meta-analysis of randomized controlled trials. Menopause. 2012 Jul;19(7):776-90. doi: 10.1097/gme.0b013e3182410159. PMID: 22433977. pubmed.ncbi.nlm.nih/22433977/
Originally posted August 2012. Updated June 2023.