Exercise to Avoid Breast Cancer?
I've read that exercising when you're young can protect women from breast cancer, and exercising after you've been treated for the disease can help prevent a recurrence. Does exercise affect breast cancer risk among post-menopausal women?
Andrew Weil, M.D. |April 21, 2009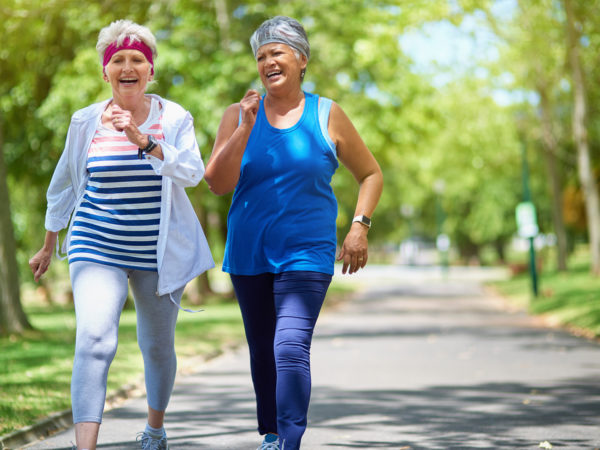 Originally published April 21, 2009
You're right about the benefits of exercise for young women and for women already treated for breast cancer. But there's good news for older women, as well. A study from Germany has found that exercise can protect women at greatest risk – those over 50. In fact, the study found that exercise reduced breast cancer risk in this age group even more than it did among women age 30 to 49.
The researchers, from the German Cancer Center and the University Hospitals of Hamburg-Eppendorf, collected data on exercise habits from more than 10,000 women, including physical activities such as gardening, bicycling and walking to shops. They found that that the protective effect was independent of any change in body mass index (BMI) or weight, an unexpected result, because we have assumed that exercise helps by reducing fat stores in which estrogen is produced. The most common type of breast cancer is estrogen dependent. The German study found that exercise specifically reduced this type of disease (called "estrogen-receptor positive") but had no effect on the risk of other types of breast cancer. The study was published in the December 1, 2008 issue of Cancer Epidemiology Biomarkers and Prevention.
An earlier study, published in 2003 in the Journal of the American Medical Association, found that women who don't begin to exercise until later in life can reduce their breast cancer risk by 20 percent. Here, a brisk, half-hour walk five times a week was enough to lower the risk, even among women with a strong family history of the disease, those who hadn't had children (a long-recognized risk factor), and those who had taken hormone replacement therapy. It also found that 10 hours of exercise per week could cut risk by 30 percent.
To reduce your risk of breast cancer, the American Cancer Society recommends 45 to 60 minutes of physical activity in addition to normal daily activities five or more days a week.
Andrew Weil, M.D.