Does Soy Promote Breast Cancer?
I've heard that a new study found a connection between soy and breast cancer. Is this true? Should women avoid soy foods? What's the story?
Andrew Weil, M.D. | December 5, 2014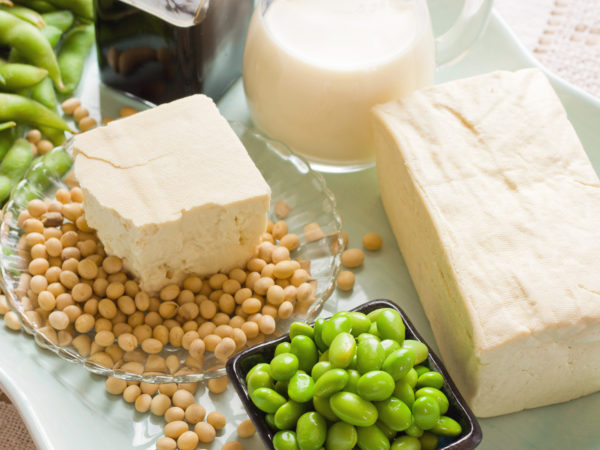 You are probably referring to a study from Memorial Sloan Kettering Cancer Center in New York. The report suggested that a "moderate" amount of soy added to the diets of women newly diagnosed with early-stage breast cancer resulted in an increase in the expression of genes associated with cancer growth among some of the women. The study was a very short one – it took place in the one to four weeks between the time the women were diagnosed with breast cancer and their subsequent lumpectomy or mastectomy.
The researchers reported that the overexpression of the genes that promote cancer proliferation occurred only in a small portion of the women in the study. Because the study was so short, it did not explore whether the changes in gene expression seen would actually promote tumor growth, although one of the researchers voiced concern "that there may be the potential" for this to happen.
The women participants were randomized into two groups. One group received the soy protein and the other was given a placebo. Neither the women nor the researchers knew which participants were provided the soy. The women in the soy group who had high blood levels of genistein after the addition of soy to their diets were evaluated for changes in gene expression or molecular changes in their tumors. (High levels of genistein indicate that you have consumed soy.)
Not all the women who consumed soy had high levels of genistein; and only 20 percent of them had markedly high levels. The investigators said that the reasons for this disparity aren't clear, and that there is no way to predict in advance which women would have high levels of genistein or changes in gene expression after consuming soy.
The amount of soy the women received during the study was the equivalent of about four cups of soymilk per day. The researchers noted that people who regularly consume soy foods, particularly vegetarians and Asians, could easily get that amount in their daily diets.
The study didn't investigate if soy can prevent cancer or whether it would have any effect on women who don't already have breast cancer or those who have premalignant changes in the breast. The researchers didn't recommend that women avoid soy foods but suggested consuming them in moderation. Study co-author Jacqueline Bromberg, M.D., Ph.D., advised women who have early stage breast cancer to avoid eating large amounts of soy foods but said that women who have had breast cancer can eat soy foods in moderation.
The issue of a possible connection between soy and breast cancer has come up repeatedly and has been researched in both animal and human studies. These studies have focused on the theory that the phytoestrogens (isoflavones) in soy can attach to estrogen receptors and block the effect of the hormone most types of breast cancer cells need in order to multiply. If true in practice, consuming soy foods could reduce the risk of breast cancer, but study results have been conflicting: some show that soy consumption lowers the risk of breast cancer while others have found no such evidence. Some studies have suggested that concentrated supplements of soy proteins may actually stimulate the growth of breast cancer cells. Results of a large study from Shanghai published in 2009 found that women participants whose intake of soy protein was highest when they were teenagers or young adults had a risk of pre-menopausal breast cancer that was 60 percent lower than participants whose intake during those young years was lowest.
I advise avoiding concentrated soy supplements entirely. However, I still recommend one to two servings a day of whole soy foods. A serving is a cup of soymilk or one half-cup of tofu, tempeh, edamame or soy nuts. At those amounts you'll get the benefits of soy without the theoretical risks of taking in too many of the plant estrogens.
Andrew Weil, M.D.
Source:
Moshe Shike and Jacqueline Bromberg et al, "The Effects of Soy Supplementation on Gene Expression in Breast Cancer: A Randomized Placebo-Controlled Study," Journal of the National Cancer Institute, doi:10.1093/jnci/dju189