What Promotes Bone Growth In Someone With Osteoporosis?
I suffer from osteoporosis. What do you recommend to promote bone growth?
Andrew Weil, M.D. |August 10, 2021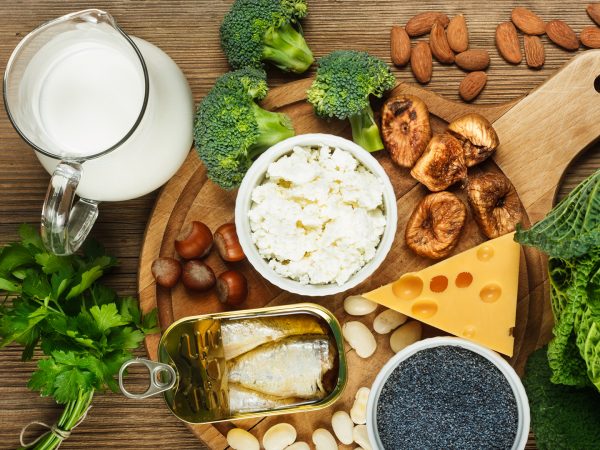 The process of building and preserving bone mass is a lifelong one. Throughout childhood, adolescence, and early adulthood your body is increasing bone mass, which peaks at about age 30.  After that your bones start to gradually lose mass, becoming softer and more porous. When bones dip below a certain level of density, that condition is called osteoporosis. Since soft, porous bones are vulnerable to debilitating fractures, it's important to address osteoporosis to prevent further bone loss. The good news is there are ways to lower your risk of developing it and treat it if it develops.
Your skeleton is more complicated than you might think. Bones are storehouses for calcium and phosphorus, and when your body needs those important minerals, it draws from the stores. A complex system of hormonal signals governs the levels of these minerals in the bloodstream, pulling them from bones when nerves or muscles need them. When you are adding more minerals to your bones than you're taking out, you have a net gain in density. If your body is calling for more minerals to be drawn out of your bones than you are replacing, your bones will lose density.
Woman are at additional risk of losing bone density after menopause, when estrogen production drops. Estrogen promotes bone growth, and diminished levels of the hormone in older women are associated with loss.
If you have been diagnosed with osteoporosis, I recommend a two-pronged strategy. First, talk to your physician about prescribing one of the drugs that slow bone loss. Evista (raloxifene), a selective estrogen receptor modifier, and the bisphosphonates Actonel (risedronate sodium) and Fosamax (alendronate sodium) are all effective in protecting bones, although they all have side effects, as well as some other risks. You may need to try more than one of these drugs to find the one that is least troublesome for you.
Second, to prevent further bone loss, it is a good strategy to keep supplying your bones with calcium, which is found in dairy products such as yogurt and milk; dark green vegetables like collard greens, bok choy, and broccoli; whole soy foods like tofu; and calcium-fortified soy milk and orange juice. If your diet falls short, if you are postmenopausal, or if you have a family history of osteoporosis, take a calcium supplement each day.
I also recommend a diet rich in potassium, magnesium, vitamin C, vitamin K, and beta carotene (found in fruits and vegetables, spinach, tofu, almonds, broccoli, lentils, and pumpkin and sunflower seeds), all of which have been associated with higher total bone mass. (Talk with your doctor about the effects of vitamin K if you are taking a blood-thinning medication.) Limit sodium, caffeine and alcohol.
For anyone concerned with the risk of bone loss – whether diagnosed with osteoporosis or not – strength training is critical. Weight training, using free weights or resistance machines or bands, puts demands on your skeleton that sends a signal to build bone. A process called remodeling governs the ongoing creation and loss of bone, with the cells of your skeleton being regularly replaced in a cycle lasting about 10 years. Strength training induces the formation stage of this cycle, helping keep you on the net gain side of the equation.
Note that the early phase of bone loss is referred to as osteopenia, which means a loss of bone mass that does not yet qualify as osteoporosis. I do not recommend prescription drugs to treat osteopenia. Instead, use dietary changes and strength training to maintain bone density.
Andrew Weil, M.D.
Sources:
Office of the Surgeon General (US). "Bone Health and Osteoporosis: A Report of the Surgeon General." Rockville (MD): Office of the Surgeon General (US); 2004. 2, The Basics of Bone in Health and Disease. Available from: https://www.ncbi.nlm.nih.gov/books/NBK45504/
Drake MT, Clarke BL, Khosla S. "Bisphosphonates: mechanism of action and role in clinical practice." Mayo Clin Proc. 2008 Sep;83(9):1032-45. doi: 10.4065/83.9.1032. PMID: 18775204; PMCID: PMC2667901.