Arabinogalactan: A Better Thyroid Treatment?
What can you tell me about the use and efficacy of arabinogalactan or the product Ambrotose? I've been advised to take it for a high thyroid peroxidase level with a diagnosis of Hashimoto's disease.
Andrew Weil, M.D. | February 28, 2011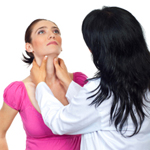 Thyroid peroxidase (TPO) is an enzyme made in the thyroid gland that is important for the production of thyroid hormones. The thyroid peroxidase test measures levels of an antibody to TPO in the bloodstream. The presence of these antibodies indicates autoimmunity directed at the thyroid.
Hashimoto's disease (also called Hashimoto's thyroiditis) is an autoimmune disorder that eventually results in thyroid deficiency (hypothyroidism). Symptoms include weakness and fatigue, weight gain and increased sensitivity to cold. Skin may become dry, rough and pale, and you may notice some hair loss, muscle or joint aches, constipation, depression, irritability, memory loss, abnormal menstrual cycles with heavy flow, and decreased sex drive.
I wouldn't recommend taking Ambrotose under any circumstances. This product is a "glyconutrient" composed of eight sugars used by cells to make compounds for communication with other cells. The body makes all the glyconutrients it needs from foods in the diet.
Ambrotose is sold through multilevel marketing – meaning that you can buy it only through distributors who make money not just from their own sales but from those of the people they recruit. I am prejudiced against multilevel marketing schemes and urge you to avoid buying anything sold in this fashion.
For Hashimoto's thyroiditis, as with other autoimmune processes, I recommend experimenting with some type of mind/body treatment – hypnosis, psychotherapy, or guided imagery therapy. You might also consult a practitioner of Chinese medicine in addition to working with a conventional endocrinologist. Here are my recommendations for dealing with autoimmune diseases.
Andrew Weil, M.D.