Ankylosing Spondylitis: Treating Arthritic Disorder Naturally?
My partner of 56 years has ankylosing spondylitis and wants to avoid medication. How can we treat him more naturally?
Andrew Weil, M.D. | November 9, 2010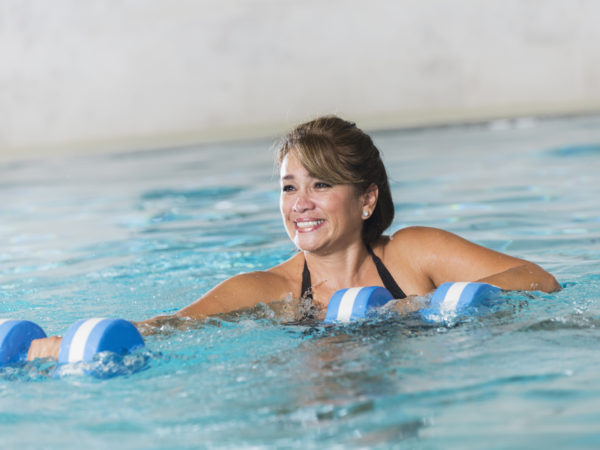 Ankylosing spondylitis is a chronic autoimmune disorder resulting in painful inflammation of the spine and joints in the shoulders, hips and knees. It resembles rheumatoid arthritis and the arthritis that sometimes accompanies psoriasis and inflammatory bowel disease.
Specific stretching and strengthening exercises are recommended to help control the stiffness. You can get exercise DVDs (and educational materials) from the Spondylitis Association of America. Swimming and exercising in water are excellent for individuals with ankylosing spondylitis, and maintaining erect posture is essential to preventing deformity of the upper back.
If you or you partner smokes, quit now. Smoking is particularly troublesome for people with ankylosing spondylitis because the condition can affect the mobility of the rib cage. Add to that any lung damage caused by smoking, and you are likely to develop breathing difficulties.
As for nutrition, I recommend following my anti-inflammatory diet. Also try eliminating foods that may trigger autoimmunity. Start by eliminating all dairy products for two months. If that doesn't help, experiment with elimination of wheat, corn, soy, sugar and citrus fruits – one at a time.
Conventional medicine treats ankylosing spondylitis with non-steroidal anti-inflammatory drugs and stronger immune-suppressive medications, in addition to physical therapy, which can help improve your range of motion, flexibility, and posture. Particular breathing exercises can help preserve and improve your lung capacity.
I also recommend taking an herbal anti-inflammatory agent. In addition, I recommend practicing relaxation techniques; especially breathing exercises such as the relaxing breath; and mind-body techniques, such as journaling, meditation, yoga, and visualization (including guided imagery therapy and hypnotherapy) – all of which can be quite useful.
I encourage you to find practitioners of traditional Chinese medicine or Ayurvedic medicine who may be able to help you as well.
The most extreme approach to treatment of ankylosing spondylitis is monitored fasting for more than three days. Don't consider doing this without expert supervision at a facility staffed by experienced health professionals. I've seen supervised long-term fasts put autoimmune arthritic disorders into remission.
Andrew Weil, M.D.