Overcoming Adult Food Allergies?
I'm in my early 40s and have acquired an allergy to scallops. I thought food allergies were most common in children and am puzzled as to why I developed one at this age. Do you have any insights?
Andrew Weil, M.D. | November 1, 2017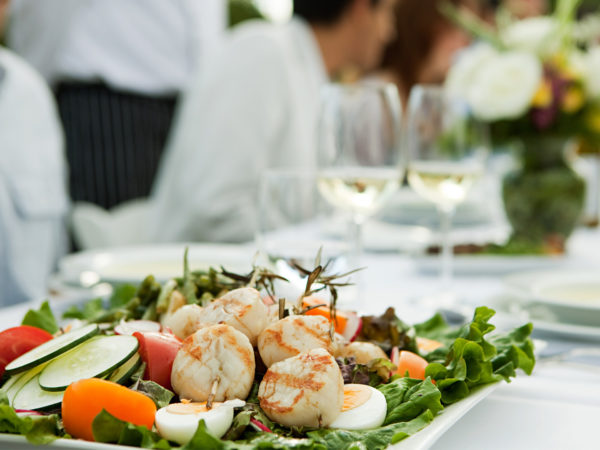 Food allergies usually do occur in children, who may outgrow them if they're lucky. However, new research presented in October 2017 revealed that 45 percent of adults with food allergies developed them after age 18. The study also showed that the incidence of food allergies in adults is increasing across all ethnic groups (as it is in children). The most common food allergy among adults is to shellfish, with an estimated 3.6 percent of U.S. adults affected. This represents a 44 percent increase from the 2.5 percent prevalence rate of shellfish allergies among adults found in a well-regarded 2004 study. An even greater increase was noted in allergies to tree nuts, up by 260 percent since 2008, with 1.8 percent of adults affected compared to 0.5 percent in 2008.
The researchers also reported that the risk of developing a food allergy as an adult is greater among blacks, Asians and Hispanics than among whites. It found that Asian adults were 2.1 percent more likely to report a shellfish allergy than white adults, and that Hispanic adults were 2.3 times more likely than whites to have a peanut allergy.
These findings stem from a survey of 40,447 adults. The researchers, from Northwestern University's Feinberg School of Medicine, used stringent criteria to identify adults with true food allergies.
True food allergies involve immediate, measurable immune reactions, which may be life threatening. However, many problems that adults regard as allergies are actually food intolerances or sensitivities. An allergist can determine the difference by performing a careful history and testing. If you haven't consulted an allergist about your symptoms, I urge you to do so.
Food intolerances and sensitivities are also mediated by the immune system, but the reactions are more variable and more annoying than dangerous.
Randy Horwitz, M.D., medical director of the Arizona Center for Integrative Medicine and an expert on allergy and immunology, explains that some problems with foods will resolve if you strictly avoid the ones that cause you trouble for a period of time and then reintroduce them slowly one by one. If and when your physician approves this strategy, Dr. Horwitz said he would recommend clinical hypnotherapy as an adjunctive treatment. He added that emotions have been shown to play a role in the body's responses to allergens and irritants and that in one published study, laughter was shown to reduce the reactivity of skin to allergy testing.
Andrew Weil, M.D.
Source:
Ruchi Gupta et al, "The Prevalence of Nut and Seafood Allergies Among Adults in the United States." Presentation at the American College of Allergy, Asthma and Immunology (ACAAI) Annual Scientific Meeting, October 27, 2017, Boston, MA.