Herbal Hope for Allergies?
What can you tell me about an herb called pe min gan wan? I've been told that it can help with my allergies.
Andrew Weil, M.D. | April 29, 2008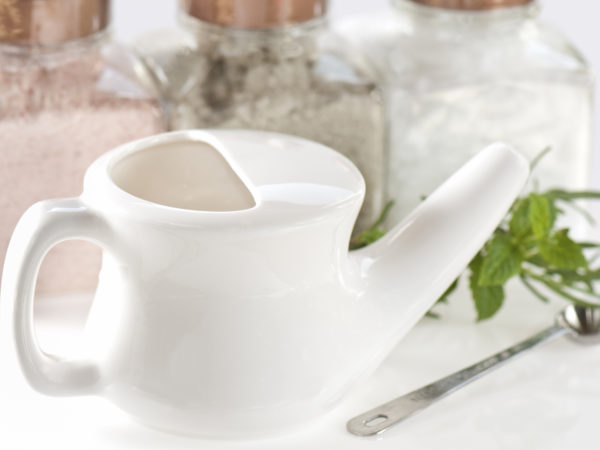 Pe min gan wan is a traditional Chinese herbal formula, not a single herb, used to treat allergies. It combines magnolia flower, Chinese lovage root, angelica root, licorice root, and others. I have no first-hand experience with it, but Randy Horwitz, M.D., an allergist and medical director of the Arizona Center for Integrative Medicine, tells me that several of his patients with allergic rhinitis (hay fever) have used pe min gan wan prescribed by practitioners of traditional Chinese medicine (TCM) and have reported that it was very helpful. There is no reason why you shouldn't try it.
While pe min gan wan is generally well-tolerated by patients, Dr. Horwitz says that the natural remedies he prefers for allergic rhinitis are khella tea, stinging nettle, and quercetin, along with saline nasal irrigation (neti pot or NeilMed Sinus Rinse bottle).
He notes that another TCM formulation is going to be studied among patients with asthma in an FDA-approved clinical trial at Mount Sinai School of Medicine in New York City. The formula contains extracts of a mixture of the raw herbs: Ling-Zhi 20 g, Ku-Shen 9 g, and Gan-Cao 3 g. Ling-Zhi is Ganoderma lucidum (reishi mushroom); Ku-Shen is made from roots of Sophora flavescens or S.angustifolia (yellow mountain laurel); and Gan-Cao is made from the root of a licorice relative, Glycyrrhiza uralensis.
Dr. Horwitz says he frequently recommends licorice root, one of the ingredients in the formula, to patients with asthma.
Andrew Weil, M.D.