Reiki Mom Helps Children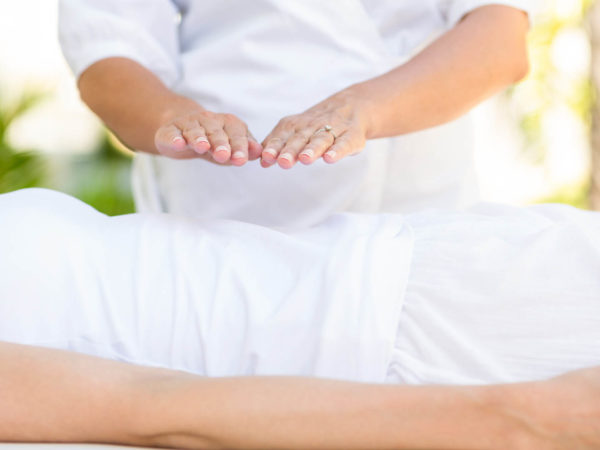 Pamela Miles, a Reiki Master with 30 years experience in complementary and alternative medicine, is the author of the new book, "Reiki: A Comprehensive Guide" (Jeremy P. Tarcher/Penguin, 2006). The book explores the history, nature, practice, and science of Reiki, a gentle, hands-on healing modality that is sometimes recommended by Dr. Weil. These excerpts are from the chapter, "Reiki in Family Life."
I was a Reiki mom long before I became a soccer mom. It was hard to watch kids get hurt on the field and not be able to use my Reiki hands to calm them and help lessen their pain and trauma in the moments right after injury. This was part of my motivation to start coaching. Coaches are supposed to go out to injured players, and although fortunately we had no serious injuries, Reiki's touch soothed many felled players. When my daughter's athletic skill exceeded mine and she graduated to a more experienced coach, he was surprised at how quickly her injuries healed. Reiki is quite literally a first-aid kit in the hand. With accidents being the main reason children under ten see their doctors, that's no small thing. And that's just one of the ways Reiki helps kids.
Offering Reiki to children requires a light touch, literally and figuratively. I've never had a child refuse treatment, but some are decidedly more interested than others. There is no need to be rigid in offering treatment to kids. Be mindful of the hand placements, follow the sensation in your hands, or just do what you can. With a baby, one hand on the head and/or torso may be enough. Children typically respond faster than adults and need less treatment. Especially when treating children (including teens), we are wise to remember [Reiki pioneer Hawayo] Takata's teaching: "Reiki will guide you. Let Reiki's hands find it. They will know what to do."
I have also seen good results training children with autism, Asperger's, and other developmental syndromes. The causes of autism are unknown, and much controversy surrounds it. Because Reiki is balancing, it can be of benefit regardless of the cause, and can provide soothing moments for parents and kids alike. Children who learn Reiki benefit from empowerment as well as its centering effect.
_______
Lucky teens in Camden, Maine, have found Reiki at school. Camden Hills Regional High School is attended by 750 kids from five communities. According to Judy Ottman, M.Ed., the school lost eight students to a rash of accidents, drowning and suicides within a six month period in 2001. As part of the communities desire to support the teens through these tragedies, a Wellness Room was created to offer Reiki to students and staff. Students can come on their own, or at the suggestion of a teacher or the school nurse. In the 2003-2004 school year, there were 370 student visits. Students lobbied to be trained themselves, and three Reiki Masters collaborated to train twenty-four students in First Degree. A year later, eight of the student practitioners requested and received Second Degree training. More than half the student body has received treatment, and the entire basketball team came in before an important game.
_______
An eight-year-old student who's been practicing for three years told me, "Reiki has helped me in a lot of situations when I was really hurt. It calmed me down and made me feel better."
_______
Use Reiki as a healing intervention when needed, but the best results come from introducing it as a practice. This could start as daily treatment by a parent, often at bedtime. At some point, the child can be trained as well. At what age? According to Reiki master Wanja Twan, Takata trained kids at age four.
Reprinted from Reiki: A Comprehensive Guide by Pamela Miles by arrangement with Jeremy P. Tarcher, a member of Penguin Group (USA), Inc., Copyright © 2006 by Pamela Miles. To read the entire first chapter and find more information, visit www.ReikiInMedicine.org.