How Much Time In Nature?
I know spending time in nature – forest therapy – is supposed to be good for health, but I'm wondering how much time is best and whether it has to be daily.
Andrew Weil, M.D. | July 15, 2019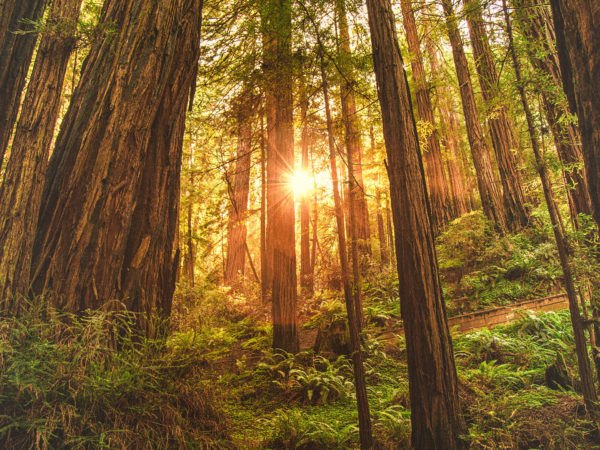 You raise a question that finally has an answer. As you may know, forest therapy originated in Japan, where researchers have been studying its physiological effects for many years. It appears to have measurable health benefits; for example, it can lower levels of salivary cortisol, the hormone that rises when we're under stress.
But how much time in nature is needed to get those benefits? A study from the UK published in June 2019 came up with an estimate – 120 minutes (two hours) – per week. The researchers, from the University of Exeter, found that it doesn't matter if you spend those two hours in nature all at once or incrementally over the course of a week.
The findings come from data on nearly 20,000 people participating from 2014 to 2016 in a British survey called the Monitor of Engagement with the Natural Environment, the world's largest study of people's contact with the natural world.
Participants who spent two hours a week or more outdoors reported being in better health and having a greater sense of well-being than those who didn't get out at all. No such benefits were seen for people who spent less than two hours a week in natural settings. The findings also showed that spending five or more hours a week in nature offered no additional health advantages. The researchers noted that most of the participants' nature visits took place within two miles of their homes. Nearly half the people who reported spending little or no time in natural settings said they had low levels of life satisfaction and one in four said they were in poor health.
The investigators suggested that one explanation for the results "might be that time spent in nature is a proxy for physical activity, and it is this which is driving the relationship, not nature contact per se."  However, study leader Mathew P. White, an environmental psychologist, said, "What really amazed us was that this was true for all groups of people. Two hours a week was the threshold for both men and women, older and younger adults, different ethnic groups, people living in richer or poorer areas, and even for those living with long-term illnesses."
We learned a great deal about the general health benefits of forest therapy from a British analysis of 143 studies published in October 2018. It included data on some 290 million people from 20 countries and concluded that the practice was associated with lower levels of cortisol, lower blood pressure and heart rate.  Findings also showed that forest therapy lowered blood cholesterol and reduced rates of diabetes, coronary heart disease, stroke, asthma and death from heart disease. In addition, it was associated with decreased risk of preterm birth and lower all-cause mortality. Some of the studies analyzed suggested that forest therapy helped people sleep better and improved outcomes in those with cancer and neurological conditions.
Andrew Weil, M.D.
Source:
Mathew P. White et al, "Spending at least 120 minutes a week in nature is associated with good health and wellbeing." Scientific Reports, June 13, 2019, DOI: 10.1038/s41598-019-44097-3