Walking vs. Running?
I'm 42, in good health, and have been running for years to keep fit, but a friend contends that walking burns just as many calories per mile. Is he right? I would also like to know if you get the same health benefits from walking as from running.
Andrew Weil, M.D. | July 11, 2018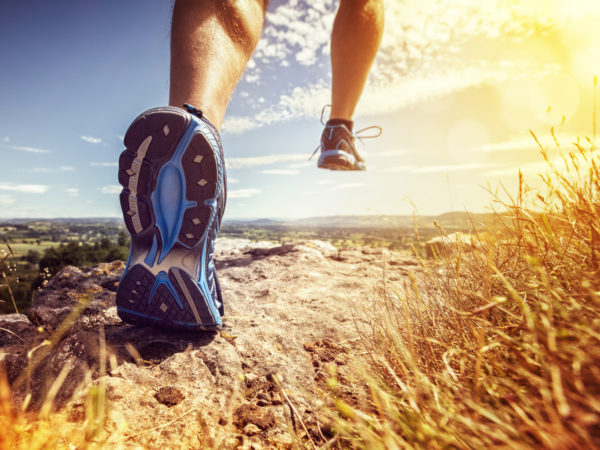 Your friend is wrong about the calories. On the face of it, you might figure that when covering the same distance – in this case, a mile – you would burn the same number of calories, because while walking is less strenuous, it takes longer to cover the distance. In fact, running burns about 50 percent more calories on average than walking over any given distance, even though it takes less time. To calculate the calories you burn per mile for running, multiply your weight (in pounds) by .63; for walking multiply by .30. This formula accounts for the calories you would be burning if you were sitting at your desk or lying on your couch instead of running or walking.
One noteworthy advantage of running is its intensity. It promotes fitness quickly and efficiently and burns more calories than many other activities. In addition, research published in 2014 found that running only once or twice a week can significantly cut the risk of death from cardiovascular disease. This proved true regardless of how fast or slow the run and even held true when total weekly running time was less than an hour. The study included 55,137 adults between the ages of 18 to 100. Results showed that the runners had a 30 percent lower risk of death from all causes, a 45 percent lower risk of death from heart disease or stroke, and on average lived three years longer than the nonrunners in the study.
On the downside, running poses a greater risk of injury than many other aerobic activities. It is especially hard on joints in the legs, knees, and back, as well as on the kidneys. To minimize these risks, never run on concrete. If possible, run on cinder tracks or dirt paths. Asphalt is not as bad as concrete but not as good as dirt. Warm up before you start a run, not by stretching but by running in slow motion. Here's where you can read more about the pros and cons of running.
Walking is the safest exercise option. The trick is to walk briskly enough to get aerobic benefits. A study from the University of Massachusetts published this year (2018) determined that brisk walking involves taking 100 steps per minute, which adds up to about 2.7 miles per hour. I recommend trying to walk about three miles in 45 minutes.
Whether you run or walk, be sure to wear well-made shoes designed to minimize shock to the joints and be sure to get a new footwear whenever your present shoes start to wear out. You might consider products by Vionic that incorporate Orthaheel Technology, which I recommend to help reduce over-pronation and to relieve associated common pains in the heel, knee and back.
Andrew Weil, M.D.
Source:
Chi Pang Wen et al, "Minimal Amount of Exercise to Prolong Life," Journal of the American College of Cardiology, August 5, 2014, DOI: 10.1016/j.jacc.2014.05.026
Duck-chul Lee et al, "Leisure-Time Running Reduces All-Cause and Cardiovascular Mortality Risk." Journal of the American College of Cardiology, July 24, 2014; DOI: 10.1016/j.jacc.2014.04.058
Catrine Tudor-Locke et al, "How fast is fast enough? Walking cadence (steps/min) as a practical estimate of intensity in adults: a narrative review." British Journal of Sports Medicine, May 31, 2018,