Climb the Empire State Building?
A friend of mine ran up to the top of the Empire State Building as part of an annual race. He insists that stair-climbing is great exercise, but he was wiped out after the race. What do you think of stair-climbing as exercise? Is it safe?
Andrew Weil, M.D. | April 19, 2012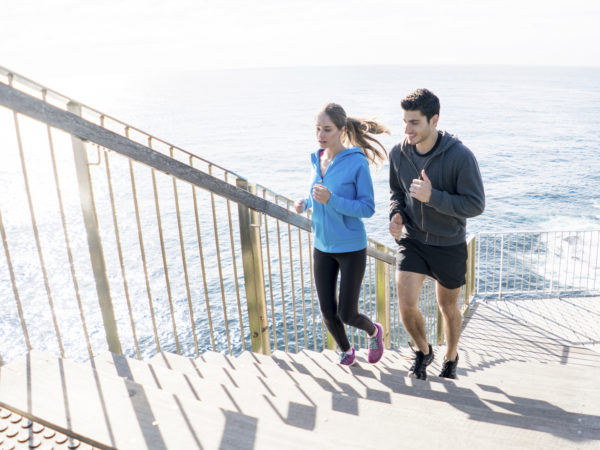 The Empire State Building "run up" in February, 2012, was the 35th annual race up the 1,576 stairs to the 86th floor. A total of more than 670 competitors from around the world entered the race and 666 finished it – 441 men and 225 women. The winner, Thomas Dold, 27, a German, completed the climb in 10 minutes, 28 seconds. It was his seventh win in a row. The winning woman, Melissa Moon, 42, of New Zealand, also won in 2010 and performed this year's climb in 12 minutes, 39 seconds.
The Empire State Building race is one of several competitive stair climbs hosted in the U.S. and elsewhere. There are stair-climbing competitions at the Willis Tower (formerly the Sears Tower) in Chicago, the U.S. Bank Tower in Los Angeles, and Taipei 101 in Taiwan. Races have also been held in Las Vegas, Denver, Milan, Omaha and Philadelphia.
You have to be in fabulous shape to compete in one of these events, and to win, you have to take the stairs two at a time, running.
If you're just looking for a convenient way to exercise, non-competitive stair climbing can give you an excellent workout. I've read that it burns twice the calories of any other sport and that 15 minutes of stair climbing can give you a workout equivalent to 30 minutes of running. You can burn more calories stair climbing than you would jogging or cycling at a moderate pace for the same amount of time. Another plus: a team of British researchers estimate that climbing stairs for seven minutes daily could reduce your risk of heart disease by about 60 percent.
Fortunately, the impact on your knees is relatively low – the pressure from stair climbing is said to be the equivalent of twice your body weight compared to three to four times the impact with running. However, your knees take a big pounding if you walk down after going up – the impact equals six or seven times your body weight (a good reason, perhaps, to take the elevator down). Stair climbing also strengthens the quadriceps and calf muscles in your legs. Your arms will get stronger, too, if you use the railings to pull yourself up, which is allowed and encouraged in competitions, according to Stair Climbing Sport, a group that is pushing to have stair climbing recognized as a sport and included in Olympic competition.
The obvious advantage of stair climbing as a workout is that you don't need to join a gym or buy expensive equipment. You can do it almost anywhere there are stairs – at work and at home (especially if you live in a high-rise building). Indeed, older urban apartment buildings known as "walk-ups" offer high-floor residents no way to avoid stair-climbing workouts, as no elevator is available.
If you're not already fit, I advise checking with your physician before you start climbing stairs. And if you're going to be climbing in a high-rise building, I suggest doing it with a workout partner, or at least making sure that someone knows what you're doing and where you are in case of an accident, as modern high-rise stairs don't get much traffic.
Andrew Weil, M.D.