Smoked Salmon With Caper Yogurt & Tomato Relish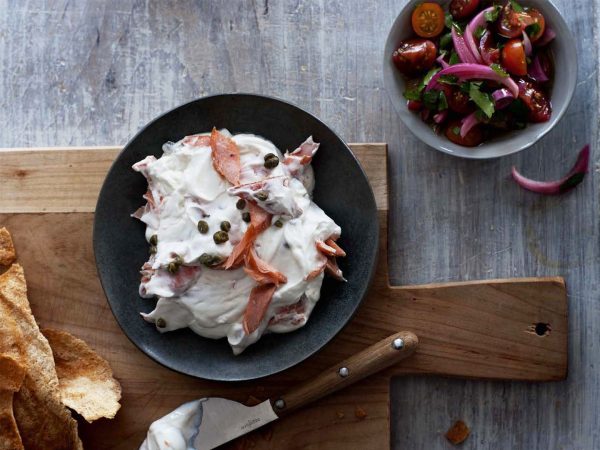 Smoked salmon means the fish has undergone a process of curing and has been either hot- or cold-smoked. Dr. Weil often enjoys this dish for his morning meal.
Smoked salmon is considered a delicacy with good reason. During the smoking process, the fish is salt-cured and partially dehydrated, which prevents the activity of bacteria.
Greek-style yogurt is smooth and thick, because the liquid whey is strained out. This added density allows you to eat less of it and still be satisfied; it's a great substitute for sour cream or crème fraîche. In this dish, yogurt binds the salmon flakes and other ingredients. Use it as a dip to be scooped with pita chips or as a schmear on a toasted bagel.
Ingredients
TOMATO-ONION RELISH
(Makes 1 cup)
2 medium tomatoes, chopped
1/3 cup Pickled Red Onions
2 tablespoons extra-virgin olive oil
1⁄2 teaspoon chopped fresh Italian parsley
1⁄4 teaspoon salt
CAPER YOGURT
2/3 cup Greek-style plain yogurt
2 tablespoons capers, rinsed and chopped
1/4 teaspoon salt
SALMON
6 ounces hot-smoke salmon, cut into 1-inch pieces
Salt (optional)
24 pita chips, toasted
Instructions
1. In a bowl, gently toss all of the Tomato-Onion Relish ingredients together. Cover and refrigerate until needed.
2. In a bowl, whisk together all of the Caper Yogurt ingredients. Cover and refrigerate until needed.
3. Combine the smoked salmon pieces in a bowl the Caper Yogurt and spoons of the Tomato Relish. Adjust seasoning with salt if needed. Place smoked salmon on se plates and garnish the with the remaining To Onion Relish.
Serve with crispy toasted pita chips.