Is Monk Fruit A Better Sweetener?
Is monk fruit extract really a healthy low-carb sweetener? How does it compare to stevia?
Andrew Weil, M.D. | October 30, 2018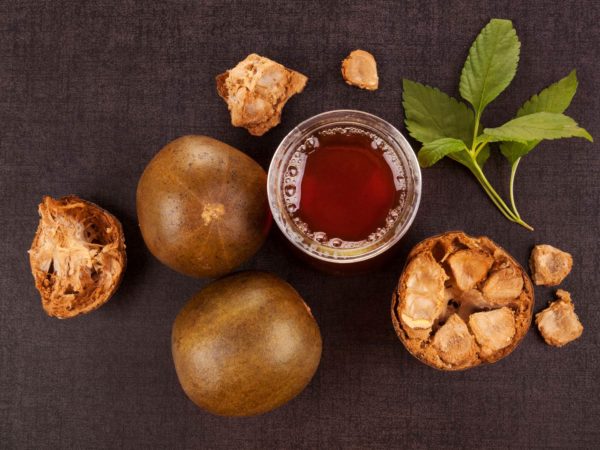 Monk fruit is a melon that grows in China and Thailand. Extracts of it have been used as a sweetener in Asia for centuries. The melon's name derives from the fact that it first was used by Buddhist monks in the 13th century. Monk fruit sweetener is said to be up to 200 times as sweet as sugar but contains no calories or carbohydrate and does not raise blood sugar. You can now get it in the U.S. in dried and powdered forms.
Stevia comes from an herb, Stevia rebaudiana, in the chrysanthemum family. It is native to Paraguay, also grows in Brazil and Argentina, and is cultivated in China. The leaves have long been used by native peoples to make sweet teas or to sweeten other foods, with no evidence of harm. It is available in the United States, and the European Union as a dietary supplement and is sold here in whole-leaf form or as stevioside, a granular white powder, which is very low in calories. Stevia is so sweet that to use it, you must dissolve it in water, then dispense the solution by drops. A teaspoon of the liquid is equivalent in sweetness of a whole cup of sugar. Stevia is safe for diabetics and is widely used as a nonnutritive sweetener around the world.
Personally, I don't care for the taste of stevia, and I don't like the flavor it imparts to foods and beverages, but I consider it safer than artificial low-cal sweeteners like aspartame, saccharin, and sucralose and have seen no compelling evidence that it is in any way harmful. Monk fruit sweeteners generally taste better than stevia.
While natural low-cal sweeteners are preferable to artificial ones, I don't recommend using any of these products.
Americans consume about 20 teaspoons of sugar daily, not including what is found naturally in foods like fruit, milk and beans. Sugar itself is considered safe but consuming it in excess is not.
Despite the widespread use of sugar substitutes, we have no evidence that any of them – including stevia and monk fruit – actually promote weight loss. Canadian research published in 2017 looked at 37 studies on artificial sweeteners that included data on more than 400,000 people who were followed for about 10 years to see if any of the sweeteners helped with weight loss. None of them appeared to, and some of the studies showed that people who consumed one or more artificially-sweetened drinks daily actually had higher risks of weight gain, obesity, diabetes and heart disease.
Andrew Weil, M.D.
Sources:
Y. Zhou et al, "Insulin secretion stimulating effects of mogroside V and fruit extract of luo han kuo (Siraitia grosvenori Swingle) fruit extract.." Yao Xue Xue Bao, November 2009 
Meghan B. Azad et al, "Nonnutritive sweeteners and cardiometabolic health: a systematic review and meta-analysis of randomized controlled trials and prospective cohort studies." Canadian Medical Association Journal, July 17,2017, DOI: doi.org/10.1503/cmaj.161390