Is Eating Protein Dangerous?
I have succeeded in losing weight on a high-protein, low-carbohydrate diet, but now I've heard that too much protein can be bad for the heart. How much is too much?
Andrew Weil, M.D. | July 9, 2018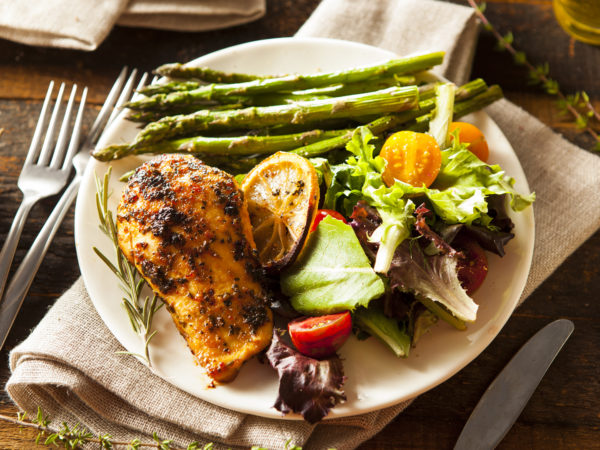 You may be referring to findings from a Finnish report published in May 2018 showing that eating high amounts of protein is linked to a small increase in the risk of heart failure for middle-aged men. The researchers were concerned about possible dangers of popular high-protein diets. Lead researcher, Jyrki Virtanen, Ph.D., of the University of Eastern Finland, noted that earlier investigations had shown that high-protein diets were associated with increased risk of type 2 diabetes and even death.
They drew their data from a study that included 2,441 Finnish men age 42 to 60 who were followed for an average of 22 years. During that period, 334 of them were diagnosed with heart failure. The researchers determined that 70 percent of the protein consumed by the men in the study was from animal sources and 27.7 percent from plant sources. Results showed that higher intakes of protein were linked to a slightly higher risk of heart failure, although protein from fish and eggs was not associated at all with this problem. All told, when comparing men who ate the most protein to those who ate the least, the risk of heart failure was 33 percent higher for all sources of protein; 43 percent higher for animal protein; 49 percent higher for dairy protein and 17 percent higher for plant protein.
According to the American Heart Association, one in five Americans age 40 and older will develop heart failure. This occurs when the heart is unable to pump enough blood and oxygen to meet the body's needs. Because heart failure is a potentially life-threatening condition that cannot be cured, prevention is all-important. The researchers noted that because their investigation is one of the first to find a link between the amount and type of protein in the diet and heart failure, research should now focus on whether limiting protein intake will help prevent this condition. It would also be useful to know if high protein intake is associated with heart failure in populations other than midlife men.
In terms of how much protein would be too much, the report showed that the men who consumed 109 grams per day (the equivalent of 3.8 ounces) had a risk of heart failure that was 33 percent higher than that of men who consumed 78 grams of protein (2.75 ounces) per day.
While the Finnish investigators demonstrated a link between protein consumption and heart failure, it's important to remember that the researchers characterized the increased risk as "slight" and noted that their research didn't establish cause and effect.
We need only 10 to 20 percent of calories from protein daily – that's not much. Rather than meat, you're better off choosing less-concentrated plant sources of protein, such as beans, nuts, seeds, and whole grains. These come packaged with fiber, slow-digesting carbohydrates, healthful fats and phytocompounds that help protect against disease.
Andrew Weil, M.D.
Source:
Jyrki K. Virtanen et al, "Intake of Different Dietary Proteins and Risk of Heart Failure in Men." Circulation: Heart Failure, May 29, 2018, doi.org/10.1161/CIRCHEARTFAILURE.117.004531