Eating To Increase Serotonin?
I've been hearing about a diet designed to boost serotonin levels. Does it work? Or is it just another dietary fad?
Andrew Weil, M.D. | May 17, 2018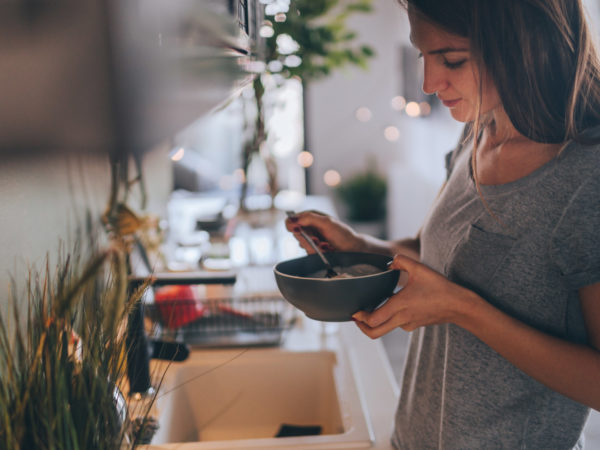 Serotonin is a neurotransmitter that helps regulate mood, sleep and appetite. Reduced levels are associated with depression, obsessive-compulsive disorder, aggressive behavior, suicide, attention deficit hyperactivity disorder (ADHD) and migraine. Antidepressant drugs like Prozac, Zoloft, and Paxil work by increasing serotonin levels in the brain and are also used to treat other disorders linked to low serotonin, including migraine.
I assume you're referring to the "Serotonin Power Diet," described in a 2006 book by researcher Judith Wurtman, Ph.D., former director of the Program in Women's Health at the Massachusetts Institute of Technology Clinical Research Center, and her co-author Nina T. Frusztajer, M.D. They maintain that their diet can help you lose weight and increase your serotonin levels thus boosting your mood. The general idea is to eat more protein in the morning and wait until later in the day when serotonin levels are lower to eat most of your carbs.
Dr. Wurtman's research with her husband, Richard Wurtman, M.D., a distinguished professor at MIT, has shown that the brain makes serotonin only after consumption of sweet or starchy carbohydrate foods eaten with very little or no protein.
In a 2017 article, the Wurtmans made the case that depression in adolescence and early adulthood often precedes development of adult obesity, as do such conditions as anxiety, post-traumatic stress disorder, premenstrual syndrome and seasonal affective disorder. They note that consuming a high-carbohydrate snack or meal when depressed may relieve symptoms through an increase in brain serotonin, and that research has shown that high-carb meals or snacks have the same effect on women experiencing premenstrual depression. They also reported that people suffering from depression are as likely to choose non-sweet starches as sweet ones.
However, the Wurtmans further made the point that if you continue eating high-carbohydrate and high-fat foods until you feel better, you'll probably end up consuming a lot more than the 25 to 30 grams (about an ounce) of carbohydrate needed to promote serotonin synthesis. And if your snack or meal also contains a protein-rich food, increase in serotonin may be blocked.
I can't tell you whether or not the Serotonin Power Diet can reliably boost mood and help you lose weight. I can say that both Wurtmans are highly respected researchers who have spent years studying serotonin. Perhaps the best way to determine if a diet to increase serotonin levels will work for you is to examine whether you habitually reach for carbohydrate foods when you're feeling depressed or anxious. Also note whether your mood deteriorates when you try to lose weight by cutting back on or eliminating carbs.
Andrew Weil, M.D.
Source:
Judith Wurtman and Richard Wurtman, "The Trajectory from Mood to Obesity," Current Obesity Reports, December 7, 2017, doi:10.1007/s13679-017-0291-6