Are Meal Delivery Services A Healthy Choice?
Is it a good idea to sign up for one of these services?
Andrew Weil, M.D. | November 4, 2021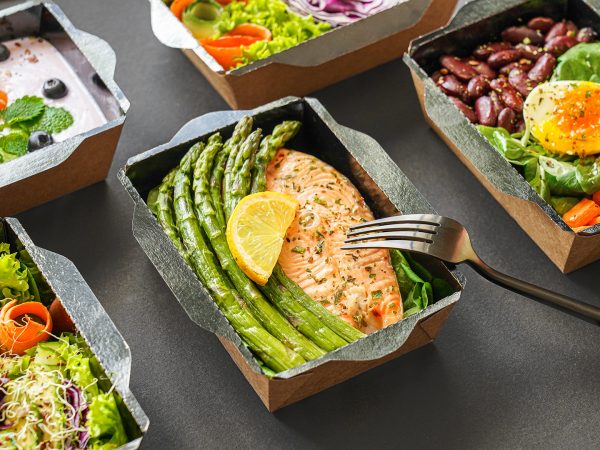 People sign up for meal delivery services for all kinds of reasons: if you don't like to cook, don't have time to prepare meals, or want to minimize food waste, having meals delivered to your door may sound like a great idea. However convenient they may be, though, delivered meals are only as healthy as what's inside the boxes.
A 2020 study in the European Journal of Clinical Nutrition looked at meals available from a major delivery service in three cities – one each in the United States, Australia, and the Netherlands – and found a remarkable number of meal options (1,668 in Chicago, 1,159 in Melbourne, and 1,496 in Amsterdam). Sadly, the options most offered were hamburgers and pizza, and researchers concluded that most of the foods available through the services were unhealthy ones.
If you are considering a meal delivery service, here are some questions to ask before you sign on:
Does the service provide fresh food? The most nutritious foods are fresh, not processed. The best meal delivery services will provide fresh food for most if not all of the meals.
Is there a variety of foods? If a service relies on a very limited number, you may not get the full complement of micronutrients that you need. Find out how many different meals are available in the plan, and be sure there is a wide variety of choices.
Does the plan include an abundance of fruits and vegetables? A healthy, anti-inflammatory diet includes berries, leafy greens, and fruits and vegetables from across the color spectrum.
How much fat is in the meal plan – and is it good fat? Do the meals include omega-3 fatty acids found in salmon and other fish? Be sure they don't include margarine, vegetable shortening, or partially hydrogenated oils of any kind.
Are the carbs healthy carbs? Look for meals that use whole grains, beans, sweet potatoes, and other foods with a low glycemic load instead of those that include white or wheat flour, sugar, or high-fructose corn syrup.
Will it provide enough fiber, and not an excess of protein? Too little fiber, and too much protein (especially animal protein), are unhealthy.
Does it provide the right calorie level for you? A good meal plan should allow you to choose the best level for your weight goals and activity.
If you have a tendency to overeat, a meal delivery service does allow you to control your portions and limit extra calories to some extent, but it's only healthy if the food the service delivers is good for you. See my anti-inflammatory diet pyramid for more information about what to include in your daily diet.
Andrew Weil, M.D.
Sources:
Poelman MP, Thornton L, Zenk SN. A cross-sectional comparison of meal delivery options in three international cities. Eur J Clin Nutr. 2020 Oct;74(10):1465-1473. doi: 10.1038/s41430-020-0630-7. Epub 2020 Apr 24. PMID: 32332863. https://pubmed.ncbi.nlm.nih.gov/32332863/