Need to Put on Pounds?
I am currently underweight due to illness. Now that I am healthy, I need to gain weight. What would you suggest for healthy sources of fat, and a healthy way to gain weight?
Andrew Weil, M.D. | September 19, 2002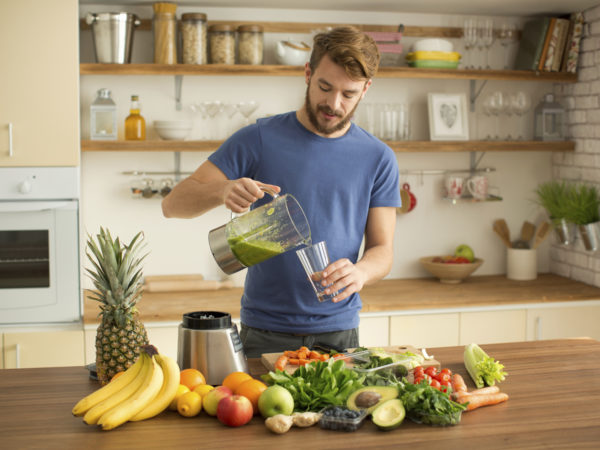 Updated on 3/30/2005
You're wise to be thinking about sensible ways to gain weight rather than the obvious ones of packing in desserts, snacks and fast foods. Those foods will deliver the calories you need but will also give you unhealthy types of fat and carbohydrate, an unbalanced mix of nutrients, and, perhaps, eating habits that may make it difficult to maintain a healthy weight once you attain it.
As far as fats go, stick to the monounsaturates found in olive oil, avocados, and nuts as well as sources of vital omega-3 fatty acids such as oily fish (salmon, mackerel, sardines, herring). A tablespoon of olive oil gives you approximately the same number of calories – 120 compared to 100 – as a tablespoon of butter, but is much better for you. You'll probably find that nuts (and nut butters) are a delicious and healthy way to add calories and protein to your diet. They're great for snacks, and you can use them in cooking and baking. You also might consider using walnut and hazelnut oils for salad dressings as a flavorful change of pace from olive oil.
To increase the calorie content of your meals, add toppings to vegetables. You can sauté a little garlic in olive oil and use it as a sauce for broccoli, string beans or other green vegetables. Here are some other hints from dieticians on healthy ways to increase your calorie intake:
Top fruit with almond or cashew butter
Add avocado to salads and sandwiches
Make smoothies in the blender with fruit and yogurt
Eat lots of legumes (lentils, kidney beans, etc.).
Rather than the obvious high-calorie, creamy pasta sauces, opt for those based on olive oil. You can also increase your calorie intake by eating bread at every meal, preferably chewy, whole-grain varieties. Try topping bread with seasoned, mashed avocado or nut butter, or dip it in olive oil. The following healthy snacks can also deliver extra calories:
A wedge of flavorful natural cheese
Dried fruit
A handful of nuts
An ounce or two of high-quality dark chocolate.
Stay well and enjoy getting back to your normal weight with delicious, natural and healthy foods.
Andrew Weil, M.D.