Low Carb Or Low Fat Diet?
I'm confused about weight loss diets. I've read that the way to go is low-carb, but then I hear that low-fat is better. Should I cut carbs and not worry about fat or do the opposite?
Andrew Weil, M.D. | December 4, 2014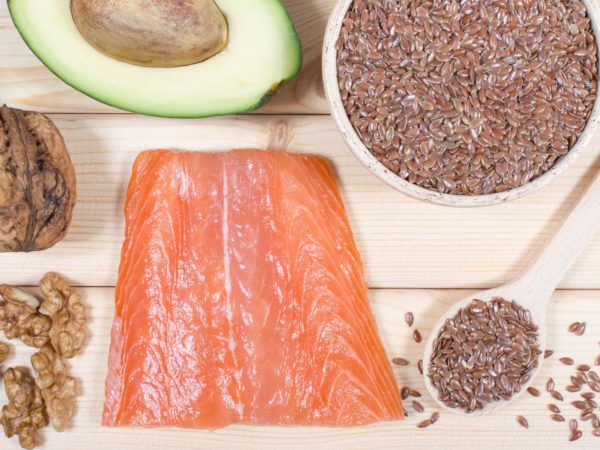 A fair amount of controversy has developed in the past few years on the issue of low-carbohydrate vs. low-fat weight-loss diets. The latest wrinkle is a study from Tulane University published this year (2014) showing that people who went on a low-carbohydrate diet lost more weight in one year than did those in a group who followed a low-fat diet for the same amount of time. More importantly, the study showed that the people on the low-carbohydrate diet ended up with fewer cardiovascular risk factors.
The study participants were a racially diverse group of 148 men and women; it is unusual to have mixes like this in clinical nutrition studies. The participants were not limited in the amount of calories they could consume, but the low-carb group was instructed to keep their carbohydrate consumption to 40 grams or less per day while the low-fat group was instructed to limit their fat consumption to less than 30 percent of daily calories including no more than seven percent of saturated fat. The low-carb group was told to eat mostly protein and fat and to focus on foods with unsaturated fats such as fish, olive oil and nuts. But they were allowed to eat red meat and cheese, which do contain saturated fat.
Low-carbohydrate diets have been criticized by some health authorities who argue that cutting back on carbs and eating more foods that contain saturated fat will lead to increases in cholesterol, which in turn would lead to cardiovascular problems. That didn't happen in this study, and some earlier investigations have shown that consuming fewer carbohydrates and more dietary fat can reduce the risk of heart disease.
At the end of the yearlong Tulane study, the researchers found that on average, people in the low-carb group had lost about eight pounds more than those on the low-fat diet. In addition, the low-carb participants had lost more body fat and gained lean muscle mass, even though there was no change in exercise patterns in either group. The participants on the low-fat diet did lose weight but seemed to lose more muscle than fat – not a desirable outcome.
For the low-carb dieters, a typical day's menu might include eggs for breakfast, tuna salad for lunch and red meat, chicken, pork, fish or tofu for dinner along with vegetables. They were encouraged to use olive oil and canola oil for cooking (both are mainly monounsaturated fats), but they also could use butter. And they could eat fruit and some beans.
When the study ended, the low-carb dieters had fewer markers of inflammation, lower triglycerides and higher HDL ("good") cholesterol than those in the low-fat group. The researchers reported no notable changes in blood pressure, total cholesterol and LDL ("bad") cholesterol for study participants regardless of which diet they followed.
All told, this study's findings constitute a reasonable argument for a low-carbohydrate diet, although I'm certain that it hasn't ended nutritional and medical debate as to the best way for people to lose weight and lower their risks of cardiovascular and other diseases. My view is that the fewer refined carbohydrates (those ranking high on the glycemic index) in your diet, the better for your health.
My major objection to most diets in general is their failure to distinguish between good and bad fats (olive oil and other monounsaturates being the good ones, and polyunsaturates the unhealthy ones).
Andrew Weil, M.D.
Source:
Lydia A. Bazzano and Tian Hu et al, "Effects of Low-Carbohydrate and Low-Fat Diets: A Randomized Trial," Annals of Internal Medicine, September 2, 2014, doi:10.7326/M14-0180