How Do You Get Rid Of Belly Fat?
Can you tell me whether exercise or diet is better for getting rid of belly fat? If it is diet, what type is best? And if exercise works, how much and what kind is most effective?
Andrew Weil, M.D. | August 28, 2015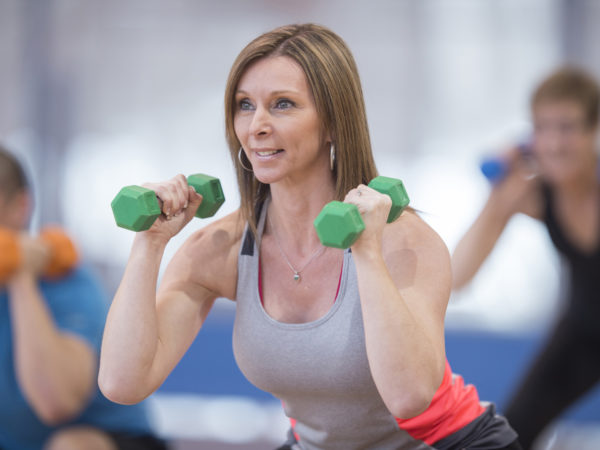 Belly fat is intra-abdominal fat, also called visceral fat, located deep in the abdomen and surrounding internal organs. This is the type of fat tissue associated with diabetes, cardiovascular disease, certain types of cancer and premature death. If intra-abdominal fat could be reduced, the risks of the serious diseases with which it is linked might also decline. Research from the Mayo Clinic shows that, even in normal weight people, belly fat presents a threat and signals a risk of death 2.08 times higher than it is in normal weight individuals with normal waist circumferences. What's more, the study showed that normal weight individuals with belly fat were at greater risk of death than obese individuals.
The best way to reduce belly fat seems to be with regular exercise, although losing weight on a reduced calorie diet also helps. Studies from the University of Alabama have shown that as little as 80 minutes of aerobic exercise or resistance training per week helps prevent regaining both weight and belly fat.
In one of the Alabama studies, 45 Caucasian women and 52 African-American women were put on an 800-calorie-a-day diet and divided into three groups. One group performed aerobic workouts, another did strength training and a third received no exercise at all. The investigation continued until the women lost an average of 24 pounds. The participants then were divided into five groups, those who continued with aerobic exercise, those who stopped doing aerobic exercise, those who continued resistance (strength) training and those who stopped, while the group that had not exercised before continued to avoid exercise. Those in the continuing exercise groups were asked to commit to working out twice a week at 40 minutes per session for one year.
The women who continued exercising during the year did not regain any belly fat even though they put on a modest amount of weight. The other women in the study – those who didn't continue to exercise and the ones who hadn't been asked to exercise at all – gained an average of 33 percent visceral fat.
We don't yet know which type of exercise is best for reducing belly fat. A 2013 review by a group of European investigators concluded that a combination of aerobic exercise and weight training was better than either type alone. I recommend a program for everyone that includes both aerobic exercise (walking, jogging, biking or swimming) for 30 minutes a day, five times a week – as well as strength training with weights (or with weight training machines if you work out in a gym) two to three times a week. If you haven't done strength training before, I recommend a session or two with a trainer to learn proper form so as not to injure yourself.
Andrew Weil, M.D.
Sources:
L. Schwingshackl and G. Hoffman et al, "Impact of different training modalities on ahthropometric and metabolic characteristics in overweight/obese subjects: a systemic review and meta-analysis." PLoS One, December 17, 2013 doi: 10.1371/journal.pone.0082853
Karine Sahakyan et al, "Normal-weight central obesity and cardiovascular mortality risk in the US population," presentation at European Cardiology Society meeting, August 27, 2012, http://spo.escardio.org/SessionDetails.aspx?eevtid=54&sessId=9564&subSessId=0&searchQuery=/default.aspx?eevtid%3d54%26days%3d%26topics%3d%26types%3d%26rooms%3d%26freetext%3dNormal-weight%2bcentral%2bobesity%2band%2bcardiovascular%2bmortality%2brisk%2bin%2b#.VVtqNVVVikp, accessed May 19, 2015
Gary Hunter et al, "Exercise training prevents regain of visceral fat for 1 year following weight loss." Obesity, April 2010 doi: 10.1038/oby.2009.316.