Can Ear Stapling Promote Weight Loss?
I'm interested in ear stapling for weight loss. A friend says it worked for her. What you think of this treatment. Should I try it?
Andrew Weil, M.D. | April 7, 2015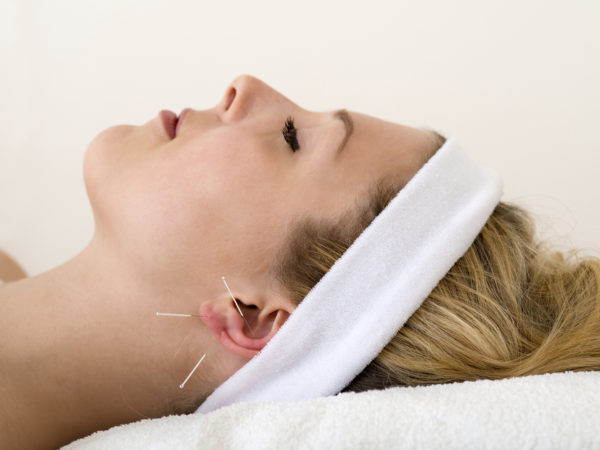 Ear stapling comes from the tradition of auricular acupuncture, the needling of points on the ear to improve general health and to control addictions and cravings. Auricular acupuncture has been used successfully to help cigarette smokers and heroin addicts kick their drug habits and, properly administered by a qualified acupuncturist, may help some people shed extra pounds.
A number of small studies suggest that ear acupuncture works for weight loss. One that received a lot of publicity came from Korea and was published in 2013. The researchers randomly assigned the 91 participants to receive acupuncture at either five points on the outer ear, at one point only, or to have sham treatment. Before the study's eight weeks were up, 24 participants dropped out, including 15 from the sham treatment group. Of those who remained for the entire eight weeks, the participants who received the five-point acupuncture saw their body mass index drop by 6.1 percent while those who received the one-point treatment decreased their BMI by 5.7 percent. Those in the sham treatment group did not lose any weight.
Another report on a clinical trial performed in Austria, and published in 2014, concluded that ear acupuncture could be a safe, non-drug treatment for obesity, but that study had only 56 participants. A much earlier study published in 2003 in Medical Acupuncture found that ear acupuncture can help promote weight loss when combined with a 2,000 calorie a day diet and 15 minutes of daily walking. This was a very small study of only 20 obese women, ranging in age from 22 to 42. Half of them received weekly 15-minute sessions of acupuncture at relevant points in the ear. By the time the eight-week study ended, the women receiving ear acupuncture had lost a mean of 10.3 pounds while the women who didn't receive acupuncture lost a mean of three pounds. All of the 10 women who received the acupuncture treatments reported a decrease in appetite compared with only one woman in the control group.
If you're interested in ear stapling for weight loss, I can't emphasize enough the importance of seeking out a certified acupuncturist. Over the years, there have been many complaints that the technique can lead to ear infections as well as severe pain in people treated by unqualified practitioners.
Ear acupuncture administered by a qualified acupuncturist and combined with a reduced calorie diet and an increase in physical activity may help you lose unwanted pounds, but there's more to normalizing weight than just having a needle placed in your ear.
Andrew Weil, M.D.
Sources:
S. Yeo, K. S. Kim, S. Lim. "Randomised clinical trial of five ear acupuncture points for the treatment of overweight people." Acupuncture in Medicine, 2013; DOI: 10.1136/acupmed-2013-010435
R.P. Schukro et al "The effects of auricular electroacupuncture on obesity in female patients–a prospective randomized placebo-controlled pilot study." Complementary Therapies in Medicine, February 2014, doi: 10.1016/j.ctim.2013.10.002. Epub 2013 Oct 31.