True Food Kitchen in Newport Beach!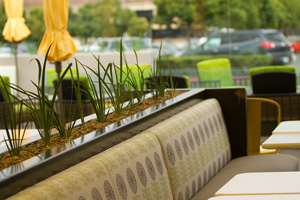 On August 2, 2010 – a perfect, sparkling Southern California day – True Food Kitchen opened its doors to the public in Newport Beach, a resort and residential community 50 miles south of Los Angeles.
"I could not be more delighted," declared Dr. Weil, who developed the restaurant with Sam Fox, CEO and president of Fox Restaurant Concepts. "California has long been in the forefront of the movement for fresh, local, organic food. This is a wonderful place for us to be."
The location, 451 Newport Center Drive, is part of the Fashion Island retail complex. This is the second True Food Kitchen restaurant. The first opened at the Biltmore Fashion Park in Phoenix, Ariz., on Oct. 27, 2008, and proved immediately successful. The new California location is part of a rollout envisioned across the southwest, including locations in Scottsdale, Ariz. (scheduled to open in October, 2010) and Santa Monica, Calif. (in April,  2011), with other locations to follow.
At 9,600 square feet, the Newport Beach restaurant is nearly twice the size of the Phoenix location, with seating for more than 250 guests.  It includes a 2,700 square foot outdoor patio, which features a striking "living wall" of succulent plants and a modernistic firepit. Inside is a demonstration area to facilitate cooking classes and even a small Zen garden, complete with a rake that guests can use. The interior features the same distinctive design and color scheme that Dr. Weil helped create for the Phoenix location, with a palette based on "lemon twist yellow" and "apple green."
All True Food Kitchen locations feature dishes that closely adhere to the principles of Dr. Weil's anti-inflammatory diet. They are intended to be a new kind of restaurant: one in which delicious flavors, healthy nutrients, environmental awareness and an inviting atmosphere come together to create an unforgettable dining experience.
"True Food is unlike any restaurant in the nation," said Sam Fox, CEO and President of Fox Restaurant Concepts. "Our philosophy celebrates high quality locally-sourced ingredients to create a unique menu." Executive Chef Michael Stebner said his dishes are influenced by Mediterranean, Asian and Californian cuisine. A wide variety of offerings will include soups, appetizers, salads, pasta, rice and noodle dishes, wood grilled dishes, sandwiches and burgers, brick oven pizzas and desserts.
A sample of dishes includes Wild Smoked Salmon with Shaved Radishes; Lemon Cream & Wasabi Peas; Sashimi Tuna Salad with Avocado, Cucumber, Tomato, Edamame & Ginger; Curry Chicken with Rice Noodles; Tuscan Kale Salad; Cauliflower & Cashews; Herbed Hummus; Green Tea Soba Noodles with Peas; Bok Choy & Lemongrass; Fresh Tomato Pizza with Pasilla Chile & Machengo; Grilled Wild Ahi Sliders with Wasabi, Radishes and Cucumber on Pumpernickel; and Natural Half Chicken with Farro, Walnuts, Dried Fig, Brussels Sprouts & Squash.
The restaurants are also decidedly "green" with environmentally friendly accoutrement including:
High efficiency kitchen equipment
Low voltage LED lighting
Waterless urinals (saving 40,000 gallons/year)
Ultra low water faucets
Low VOC paint
White oak butcher block tables and counter tops
Reclaimed wood floors
Recycled quarry tiles
Natura water purification unit. (True Food Kitchen creates both still and carbonated bottled water in-house. Bottles are cleaned, sterilized and reused, eliminating plastic bottle waste).
Each location features catering, take out, breakfast, a selection of coffee drinks, natural juice blends, hot and cold tea, sparkling wine cocktails, organic and low-calorie beer and sake. All wines are selected based on wineries' commitment to organic, biodynamic and/or sustainable farming practices.
"It's my hope that these restaurants can offer more than just a pleasant evening out – although, of course, that's important," said Dr. Weil. "Based on our experience in Phoenix, I've found that eating here can literally be life-changing for some people. The food is not odd, bland or otherwise off-putting, and can give people a whole new perspective on how delicious healthy eating can be."
View a photo essay: Opening Week at True Food Kitchen, Newport Beach