A Very Important Legacy Letter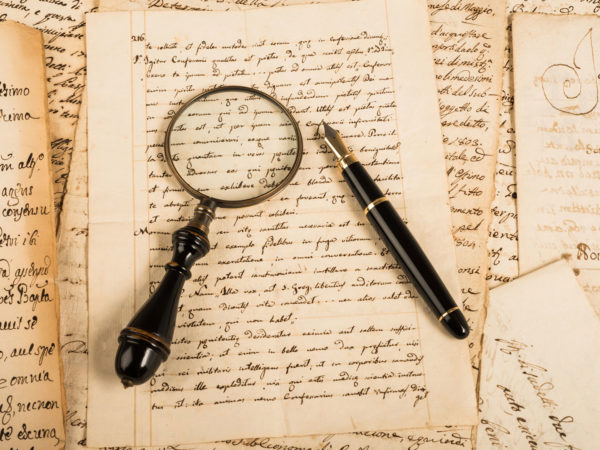 Maybe Your Most Important So Far
Reflection:
Legacy begins in Genesis, Chapter 49. The dying Jacob blessed his sons and asked them to return his bones from Egypt to the family burial plot where his ancestors, Sarah and Abraham, were buried. The two ideas, (blessing the next generation with cultural values, and expressing death and dying wishes) became the template for the ancient ethical will.
Contemporary legacy writing asks us to honor these two components as well. If we weren't mortal, there'd be no need to write legacy letters preserving history, stories, wisdom and love for those 'who'll come after us. 'But unless we're diagnosed with a life-threatening disease, we keep thoughts about dying and death at a distance, even as we age.
A legacy letter that accompanies the advance directive (living will) acknowledges the reality of dying and death so that our children and loved ones know what it is we really want for ourselves at the end of our lives. In such a letter we can express our wants and needs at end-of-life, 'why' we've chosen what we've chosen, and we personalize the objective 'do's and don'ts' of the legal document.
Once the subject is introduced, we can have real conversations with our families and loved ones about the reality of aging and dying. We can begin to uncover and share our fears and desires, our concerns and our doubts with each other. And we leave a legacy to younger generations illustrating a new way to relate to dying and death.
The rewards of writing this letter for the writer are many: a trust that what we hope for in our last days will be honored by loved ones; that we are not just elders, parents or grandparents, but sacred human beings with unique identities who want to be known in our strengths and vulnerabilities by those we love and who love us.
I wrote my first letter in 2005, as part of my legacy document. Though I promised myself then that I would update it every year, the next time I looked at it was before I had surgery four years ago.
On July 8th of this year I had shoulder replacement surgery. A few days before surgery I read through and updated the letter again should something happen while I was in surgery. I slipped the copy from my desktop into the folder I was taking to the hospital, just in case.
I came out of surgery healthy without any complications and feeling very positive about my future as a bionic woman with a titanium shoulder. That afternoon as my son and daughter sat in the hospital room with me, I brought out the letter said "We never have time to talk about this – you're both busy with families and jobs and friends. But I have your attention here and I'd like to go over this letter even though we don't need it today."
They agreed; I asked my son to read the letter aloud and for us to have a conversation about what it is I wanted them to do should I not be able to voice my wishes myself near the end of my life. At the second page my son stopped reading, and said, "Mom, you first said you wanted this but now in this paragraph you're saying something quite different. I won't know what to do when the time comes." Together we re-edited this letter begun 14 years ago, clarifying it, and adding my desire for palliative and hospice care and my not wanting invasive procedures, techniques, or medicines to prolong my life if there would be no chance that I would recover.
Finishing, my son said, "Mom, I promise that I will honor your wishes, do these things for you, but I want you to know it will be hard and I will miss you." What more could a mother want? I felt safe, loved, cared for. My peace of mind about my life and my dying was a second gift along with my new shoulder.
"Death didn't have the power to undo a life and its legacy. But perhaps the fact of death amplified life's significance."
– Sunita Puri, MD
These legacy letters can and should be an opportunity for conversation with your loved ones as I have just shared with you. Dying is not easy to talk about because it is still a taboo in our culture. But it is the one thing we can be assured of – no matter who we are, no matter what our station in life, each of us will die.
"This is how we're going to live for a long time: not always, For every gardener knows that after the digging, after the planting, After the long season of tending and growth, The harvest comes."
– Marge Piercy
To die wrapped in a blanket of care, protection, and love of our families and loved ones is an incomparable legacy for all involved.
Taking Action: 
Reread your legal document (advance directive, living will, medical directive).
Reflect on its contents. Then take as much time as you need to think about what's most important to you for your physical, emotional, and spiritual care as you approach the end of your life.
I recommend reading Sunita Puri's moving and elegant book about palliative care, That Good Night: Life and Medicine in the Eleventh Hour before you write your letter.
Write your letter, setting it aside and editing it as much and as often as you need. (Rereading may remind you of additional things you want to say.) Review and reedit it as years go by and your circumstances change.
After you've written your letter, look for an appropriate time for a conversation with your loved ones, so that when your time approaches, you'll have the peace of mind that I've shared with you today.
May you experience peace of mind as you put your life and dying in order, and gift your loved ones with this legacy.
– Rachael Freed
Rachael Freed, LICSW, senior fellow, Earl E. Bakken Center for Spirituality & Healing, University of Minnesota, is the author of Your Legacy Matters and Women's Lives, Women's Legacies: [email protected], and www.life-legacies.com