Enjoying Holiday Meals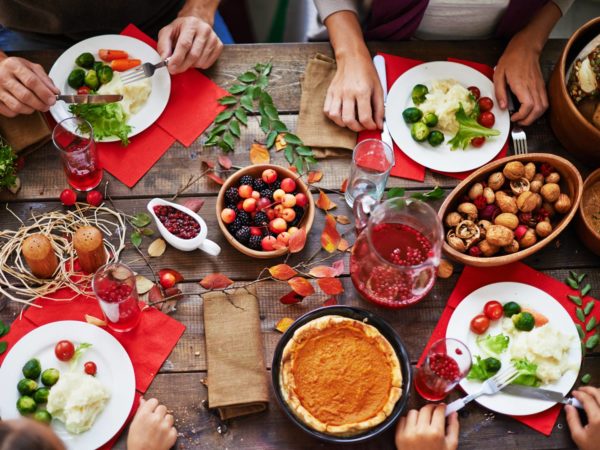 Get extra enjoyment from those holiday meals this year by being aware of what you are eating. It's easy to overindulge especially if you are stressed, so mindful eating will help you to avoid overeating, and can prevent stomachache, bloating and other gastrointestinal discomfort. This year approach your holiday meals as an exercise, not in deprivation but in making smart choices and enjoying your food. Coming out of the holidays having done the following will bring much needed confidence in your health and great habits to stick with for the new year:
Don't starve yourself all day to justify eating more at dinner. Eating a satisfying and balanced breakfast can ward off the temptation to overindulge later in the day.
Concentrate on portion control and planning: choose foods that you really love to eat, chew each bite slowly, and savor all the flavors and smells. Eating slowly not only allows you to enjoy and be thankful for your food but helps prevent overeating: it takes 20 minutes for the stomach to signal the brain that you're full.
Get up from the table when you're done, in order to avoid nibbling and overconsumption.
Move. Before the meal begins and if able, find some space and do ten air squats and ten wall pushups to activate your muscles and provide a focus on your health. Once your meal is over, take a walk to help digest your food and think about what a wonderful meal you just had – and the company and conversations that contributed to make it memorable and enjoyable.
And don't forget to visit the Recipe section for terrific dishes to serve over the holidays like Vegetable Quiche, Eggplant Dip, Polenta Triangles with Roasted Bell Peppers, and Blueberry Pie.
Today's Health Topics
Editor's Pick
Health Focus
Ask Dr. Weil's Q&A
sponsor
Visit Our Origins Shop!
Dr. Weil believes inflammation is the root cause of visible skin concerns like irritation. He also believes mushrooms have the power to fight irritation. That's why he partnered with Origins to create these Mega-Mushroom Formulas.