6 Simple Ways To Get Your Family In Shape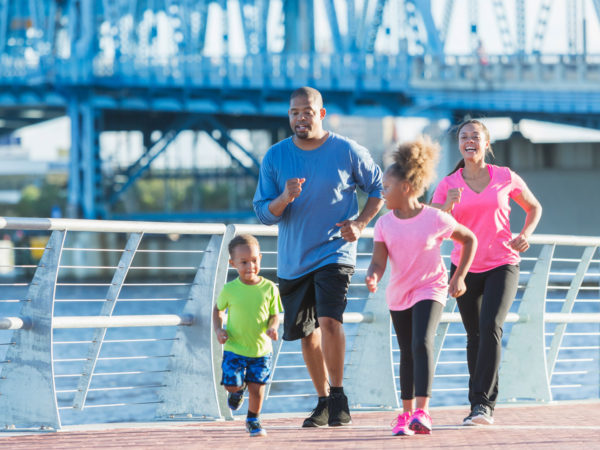 Whether or not you have kids, staying fit is important to overall well-being. To help promote healthy weight in both kids and adults, try these five tactics – all are family friendly, and can help everyone achieve their healthy goals.
Curb screen time. Limit the time you spend watching television, sitting at the computer, or playing video games. Instead, encourage outdoor activities that emphasize movement. When the weather has you stuck inside, find activities that have everyone on their feet or use the screen time for a family yoga or exercise video.
Set a good example. Studies have found that children are more likely to be physically active if their parents and siblings are active. Go on family walks after dinner, and make it a point to be active on weekends. This works for partners who are less active, as well. It may be more engaging for kids to be in nature rather than just walking a sidewalk, look into trails in your area.
Plan appropriate activities. Seek out opportunities for all ages and fitness levels and start enjoying simple outdoor activities. This is particularly essential if your average week is mostly sedentary. Go online or download a trails app to find options in your area that match well with the group's level of fitness and ability.
Emphasize nutritious foods. Replace empty-calorie foods such as cookies and chips with foods that provide nutrients. Fruit, cheese, cut-up vegetables and nuts (in smaller portions) make excellent snacks that are nutritious and filling for all ages. Make sure the fridge and pantry always have these available as the go-to snacks.
Eat meals together. Serve healthy dishes, manage portion sizes, and make conversation part of the routine so the focus is not just on food, but sharing, conversing and eating together.
Think about drinks. Water down fruit juices (80 percent water, 20 percent juice), and eliminate soda altogether – sweetened soda is the least healthy food in the American diet, and consequently the most important one to stop consuming.
Today's Health Topics
Editor's Pick
Health Focus
Ask Dr. Weil's Q&A
sponsor

Begin The Anti-Inflammatory Diet Today!
Dr. Weil's Anti-Inflammatory Diet & Healthy Aging Plan can help us all age with grace and delay the onset of age-related concerns such as heart disease, Alzheimer's, and many forms of cancer. By developing sound lifestyle practices, you can experience optimal health and well-being. Begin a 14-day free trial of Dr. Weil on Healthy Aging for access to shopping guides, eating tips, recipes, interactive tools, videos and more!